A note from the President and CEO
Dear Partners,
It was wonderful to see so many of you at last Thursday's Partner Showcase event at Revel Motor Row. Thank you to those of you who participated in the showcase and shared your organizations' work with your fellow partners, Choose Chicago staff and board members, and other local civic and industry representatives in attendance. These events are wonderful venues to build our respective networks, drive new business, and identify opportunities for collaboration. Looking forward to our next event!
Two weeks ago, we held a meeting of the Choose Chicago Customer Advisory Board (CAB), which is composed of representatives of some of our largest convention clients. The CAB convenes periodically for in-person meetings so we can learn directly from clients what we are doing well and how we can continue to improve the customer experience in Chicago moving forward. We had a robust discussion that included brainstorming sessions that will inform our work to revamp the Choose Chicago brand and market our incredible city as a premier global destination for large meetings.
Finally, I want to share two items on the DNC. First, I encourage all our partners in the events management and production space to consider submitting responses to the Democratic National Convention Committee's (DNCC) recent RFP for sustainability event management and programming services. Next August is just around the corner and we want to make sure that Choose Chicago partners are using this major event to drive new business. The Host Committee and DNCC are committed to minimizing the environmental impact of the 2024 DNC and need to identify vendors who can help them achieve their goals. You can register to receive RFPs here.
I also want to once again share this link to sign up to volunteer for the DNC. We are working to make the 2024 convention one for the history books, and a big part of ensuring a successful event is securing adequate volunteers. The DNCC needs thousands of volunteers to help with all aspects of event operations leading up to and during the DNC, and I hope you will consider participating and share this unique opportunity with your networks.
Thank you for reading. Look out for additional updates in December. In the meantime, Happy Thanksgiving!
Sincerely,
Lynn Osmond
President and CEO
Choose Chicago
Welcome new partners
Atta Girl
Byrne Production Services LLC
Chicago Hospitality Partners
Dawn
DeNuccis
Don Bucio's Taqueria
Dope Drip Café
El Tapeo Modern Spanish Kitchen
Fonda cantina
HOLU
Isabelli Partners
Kama Bistro
Kennedy Speech Communications
KIREI
La Josie
La Victoria Barra & Cocina Mexicana
McCormick & Schmick's Chicago
Napolita Pizzeria & Wine Bar
NEW Marketing Solutions
Olio e Più
Prime Bar
Production Mode
Ramen-san Lincoln Park
Seville
Sushi Hoshi
Swift & Sons
The Barn Hockey Bar
The Capital Grille
Tied House
Violi
Waterview Kitchen + Bar
Yokocho
Choose Chicago Ambassador Taskforce
We are pleased to share that applications are now being accepted to participate in the Choose Chicago Ambassador Taskforce program. Our Ambassador Task Force consists of dedicated hospitality professionals that will serve Chicago's convention and tradeshow customers through volunteer opportunities. Most volunteer services will last approximately 1 – 2 hours, and Ambassadors are expected to fulfill a minimum of 4 hours of services over the course of the year. During select conventions and trade shows, Ambassadors will provide hospitality services such as greeting convention attendees with refreshments at McCormick Place, helping with registration, or assisting Choose Chicago staff with internal events.
If you are interested in joining the 2024 Ambassador Task Force, please complete the application form by Friday, December 1, 2023.
Kendall College Third Annual Hospitality Conference: The Future of Service
Ask any owner or operator and they will tell you that the hospitality service environment is changing. Evolving customer expectations, ongoing staffing shortages, new wage and compensation models, emerging technologies and artificial intelligence, and a host of other factors are upending the traditional hospitality business model and changing where, when, and how service is delivered.
Call for Presentations: In its third annual conference, Kendall College will explore the many facets of the service experience in hospitality and tourism and explore what these trends mean for the future of service as we know it. They are currently soliciting proposals for presenters and panelists who can share insights and case studies about how the industry is adapting to the new service paradigm.Submit proposals here.
Deadline for submission is December 31, 2023. Accepted proposals will be notified in February, 2024 through the Primary Presenter.
Event date: Friday, May 3, 2024.
Location: 122 S. Michigan Avenue, Chicago, Illinois
Please refer questions to dpopely@nl.edu.
Update from the Sales and Services team
The Choose Chicago Sales & Services Team has been busy organizing client events both at home and around the country. Some recent events include an outing in Dallas where we took clients to a Mavericks vs Bulls game (we won't get into the outcome here), a gathering in Seattle where we attended a James Beard Taste America culinary event, and our Thankful Thursday event at The Lighthouse at 303 E. Wacker with clients based here in Chicago. These events are crucial to building strong relationships and closing business with both longstanding convention clients and prospective customers.
We are also pleased to share that our recent Customer Advisory Board (CAB) meeting was a great success! Through the Customer Advisory Board, we bring together our key convention clients to share updates and garner feedback on the Chicago meeting experience. This year's annual convening, which took place on November 1 and 2 at McCormick Place and the InterContinental Hotel, included conversations on improving equity and sustainability across the local tourism and hospitality industry, brainstorming sessions on the Chicago brand, and an important presentation on public safety by new CPD Superintendent Larry Snelling. CAB attendees also took part in an amazing The Bear-themed dinner experience, with a four-course meal at Canvas and a tour of the kitchens at After and Ever, both of which were featured in The Bear.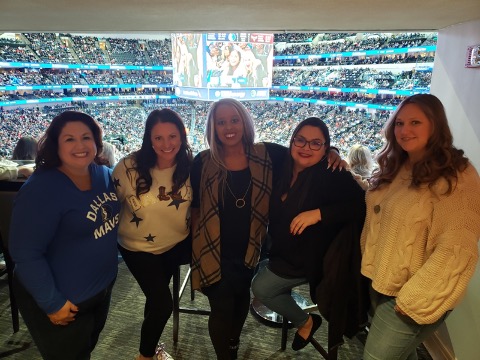 Choose Chicago Sales and Services staff and clients attend the Mavericks/Bulls game in Dallas with Texas-based clients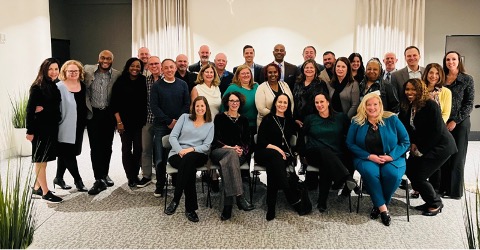 Choose Chicago leadership team, Sales and Services staff with participants at the recent Customer Advisory Board meeting
Highlights from recent shows: 
Upcoming shows and events at McCormick Place 
Looking for our next Artist of the Year
The Choose Chicago Client Services Team is on the hunt for our 2024 Artist of the Year! If you know any local artists whose work reflects the beauty and strength of our city and its residents, please encourage them to complete this interest form (or share the below link with them).
For reference, our last two Artists of the Year were the McMahon Gallery (2022) and Vashon Jordan (current/2023). The McMahon Gallery is a local watercolors, design, and sculpture gallery run by members of the McMahon family; their art often depicts scenes of Chicago. Vashon Jordan is a local photographer whose work has generated a wide following on social media; he is also the official staff photographer for Governor Pritzker.
We are open to artists from across all media. The primary requirement is that they are based in Chicago.
Media Relations Roundup
The Choose Chicago Media Relations team works every day to promote events, attractions, neighborhoods, our industry partners and more to national and global media outlets and influencers. In addition to constantly hosting and supporting individual media and influencer visits in Chicago, the team also organizes themed group tours for media and influencers. To date, Media Relations has hosted 18 media and influencer group tours from targeted global markets, including Brazil, Canada, France, Germany, Italy, Mexico, New Zealand and the UK. Each year, these efforts have resulted in thousands of pieces of earned media coverage around the world with millions in reach and social media impressions that showcase the beauty, diversity, and dynamic nature of Chicago as an international destination along with our local partners' businesses as must-experience stops for global travelers. Below are a few highlights from this year: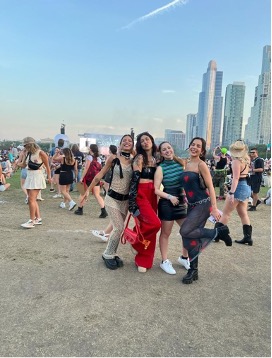 Brazilian influencers @gioserrano, @foquinha, and @giovannaferrarezi at a tour highlighting festivals, music, & Lollapalooza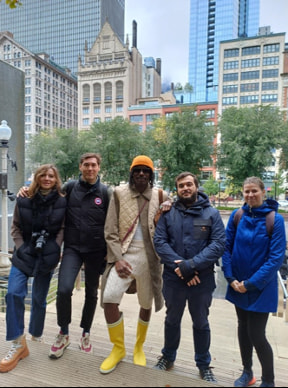 French press tour on art, architecture, and Open House Chicago with travel and lifestyle writers from Apollo & Artemis, Paul e magazine, Masculin.com, and La Voix du Nord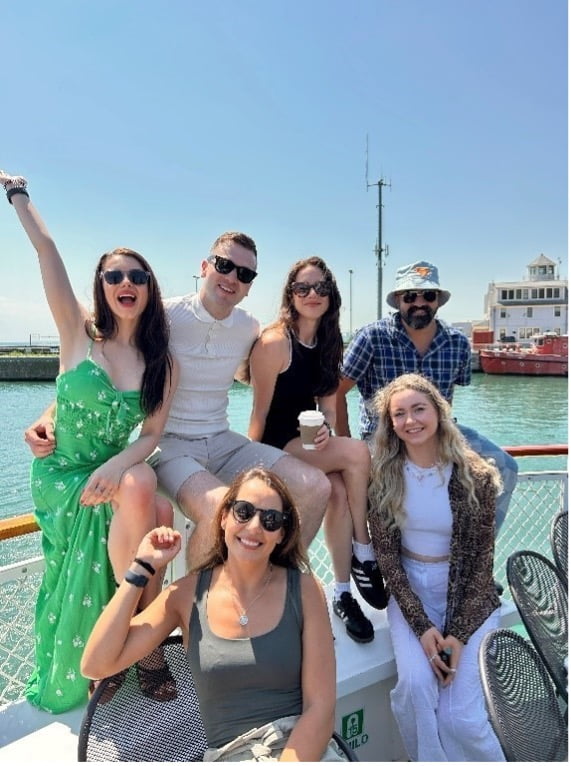 British and Irish travel and lifestyle writers from Culture Trip, House of Coco, Fabric, Irish Independent, and Irish Tatler/Business Post on a "summer city break"-themed press tour.
RECENT EARNED MEDIA HIGHLIGHTS
US
NBC | Newspath Culinary Tourism
Vacationer | 18 LGBTQ+-Friendly Big Cities in the USA 
Canada
Ottawa Life Magazine | How Chicago Invented the Modern World and Why You Should Experience It
DeHors Urbania | 5 Reasons that Make Chicago a Paradise for Cyclists 
France
Masculin.com | Chicago 
Mexico
Cosmopolitan | Where to Celebrate Halloween and Day of the Dead in Chicago? 5 Unmissable Events
EnViva | Chicago's Interactive Museums
Influencer Coverage from Ireland Foodie Visit 
---