There is no higher priority for the Chicago Department of Aviation (CDA) than the safety and security of the traveling public and the greater airport community at O'Hare and Midway International Airports. The CDA has taken every precaution to keep visitors safe, and has stayed in close contact with federal and public health partners at the Centers for Disease Control and Prevention (CDC) and the Chicago Department of Public Health (CDPH), strictly adhering to their recommendations. The CDA continues to support normal airport operations, while at the same time following the CDPH's mandates to continue to reduce the impact of COVID-19 in Chicago.
Passenger safety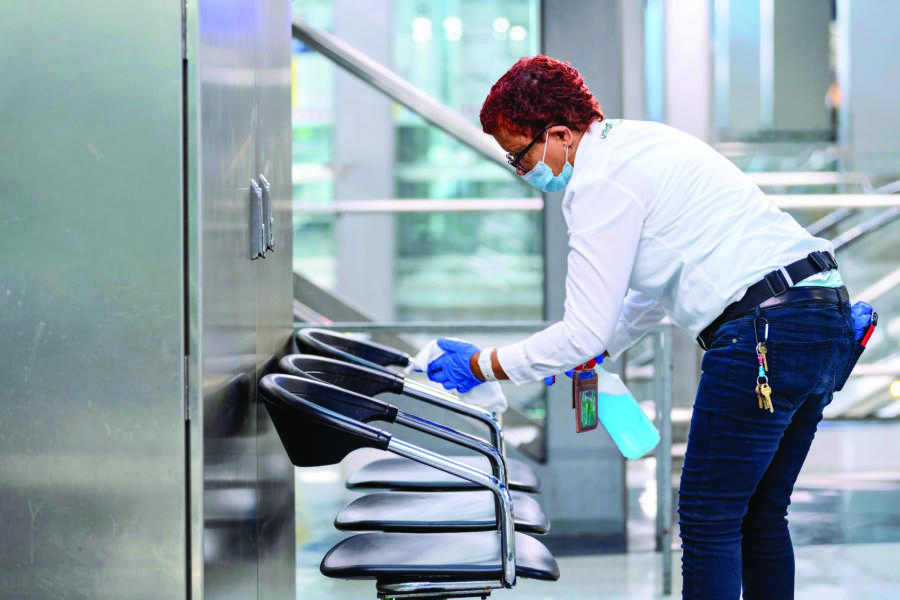 Specific passenger safety actions in our airports include:
Promotion of social distancing with the use of decals, static and digital signage, and PA announcements. Per the CDC's recommendation, please maintain a distance of 6 feet, or 2 meters, between yourself and others.
Increased frequency of surface cleaning in high-traffic areas, restaurants, and shops, utilizing virus and bacteria-killing disinfectants.
The installation of more than 250 additional hand sanitizing stations at O'Hare, and 50 additional hand sanitizing stations at Midway,​ along with a regimented refill schedule.
Airport signage and social media messaging regarding current CDC and CDPH protective action information.
The launch of a Customer Service Ambassador Program with the goal of providing passengers with a positive and safe terminal experience. As part of their duties, they pass out complimen​tary facial coverings to any traveler who needs them.
Enhanced public health preparedness information on COVID-1​9 available at airport information booths.
Dissemination of up-to-date information and coordinated safety protocols for airport operations to ensure a healthy environment from curb to gate.
Passengers limited to 15 or less on airport shuttle buses.
Concessions and amenities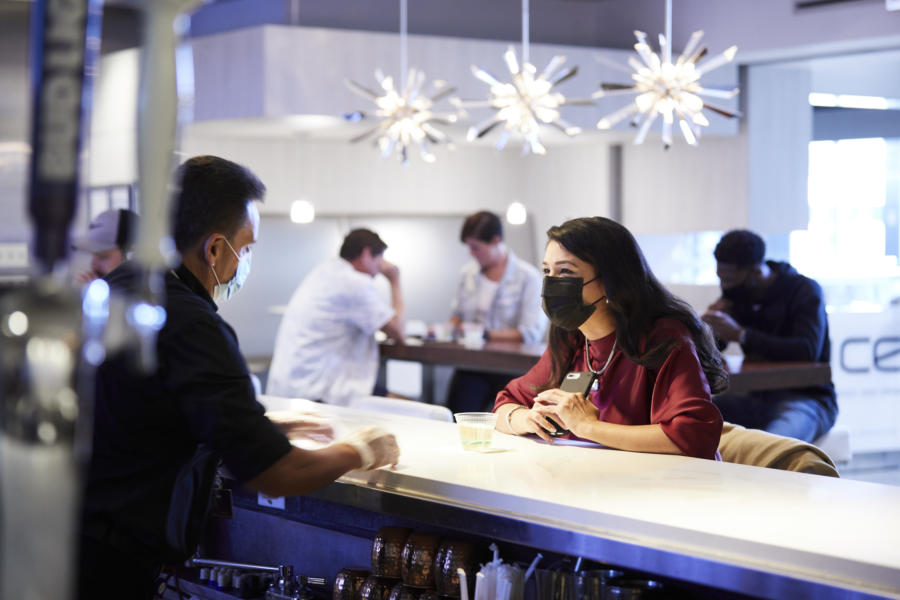 A variety of restaurants, bars, and other concessionaires and shops are strategically open to serve travelers at O'Hare and Midway Airports. Plan ahead by checking the current list of open concessions at O'Hare and Midway​. Note that yoga rooms and the 'Fly With Butch O'Hare' play area are currently closed. Airline lounge hours and operations may vary. To confirm your carrier's lounge information, click here.
Some of the ways concessionaires are working to keep travelers safe include:
Removing some tables and seats, adding six feet distancing floor decals near registers, installing plexiglass guards at registers, and implementing additional distancing signage to increase spacing and reduce crowding.
Enhancing restaurant and retailer payment options utilizing apps, where possible. Concessionaires continue to work on implementing touchless payment.
Designating single entrance and exit lines for multiple entrances or larger concession areas to control and improve the flow of passengers.
The following measures have been strongly encouraged for all airport restaurants in accordance with the CDPH and City of Chicago Business Affairs and Consumer Protection guidance:

Removal of shared condiments and utensil items from common areas (available upon request).
All publicly accessible soda fountains or water spigots placed behind counters and same-cup refills prohibited.
Product displays adjusted and minimized, where possible, to decrease customer contact.
Disposable menus (or visual displays) implemented at sit-down restaurants.
Learn more about the current health and safety protocols at Chicago's airports.