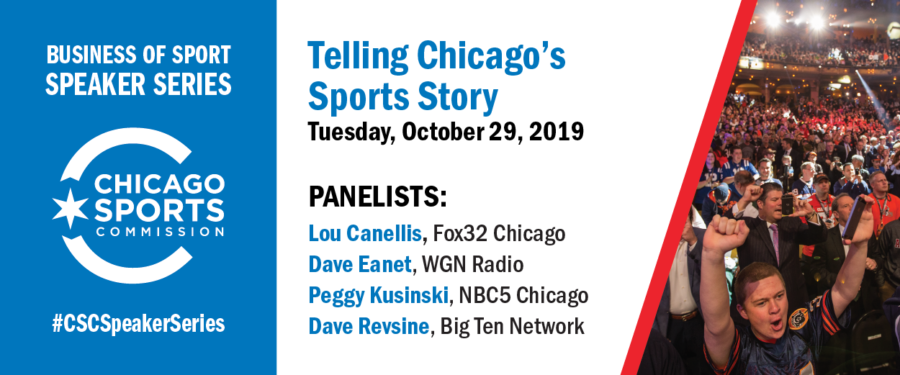 COMING UP: 
BUSINESS OF SPORT SPEAKER SERIES: TELLING CHICAGO'S SPORTS STORY
Chicago has a rich sports history – one that's recognized and celebrated across the globe. Not only do our professional teams boast a collective 19 championship titles and the world's most passionate fans, but we've also hosted major events like the NFL Draft, America's Cup World Series, The Laver Cup and various collegiate championships – each putting the spotlight on our city's unique assets. Every season and event bring new storylines and as the sports media industry evolves, so does our opportunity to expose a broader audience to Chicago.
Join us on Tuesday, October 29th to hear from some of the best in Chicago's sports media business about "Telling Chicago's Sports Story".

Panelists:
Lou Canellis, Sports Anchor, Fox32 Chicago
Dave Eanet, Sports Director, WGN Radio
Peggy Kusinski, Sports Reporter, NBC5 Chicago & Podcast Host, "The Sportscaster and Her Son"
Dave Revsine, Lead Studio Host, Big Ten Network
Date: Tuesday, October 29, 2019
Time: 8:30am – 10:00am
Registration begins and buffet opens at 8:00am
Location:
Chicago Sports Museum – Water Tower Place (Enter on Pearson)
835 N. Michigan Ave, 7th Floor
Chicago, IL 60611
Self Parking:
Available in the Water Tower Place Garage
Located at 845 N. Michigan (Enter on Chestnut)
Tickets:
Individual tickets for $40 per person
Table of 10 for $350
Panelists are subject to change.
ABOUT BUSINESS OF SPORT SPEAKER SERIES
The Chicago Sports Commission (CSC) Speaker Series brings together leaders in sports and professional communities to discuss current business trends in the sports industry, including technology and sports, sports medicine, the business of soccer, and sports media and production.
Past Series speakers include Stan Bowman, Senior Vice President & General Manager of the Chicago Blackhawks; Kristin Fasbender, Director of Championships and Alliances for the NCAA; Eric Finkelstein, Director of Event Operations at the National Football League; George McCaskey, Chairman of the Chicago Bears; Dan Payne, Chief Executive Officer of USA Rugby; and Brian Remedi, Chief Administrative Officer for the U.S. Soccer Federation.
Sign up for Chicago Sports Commission Speaker Series news, event invitations, and The Chicago Sports Report newsletter.