A note from the President and CEO
Dear Partners,
Earlier this month, Brandon Johnson was elected to be the 57th Mayor of Chicago. On behalf of the entire Choose Chicago team, I want to offer my congratulations to Brandon Johnson and his team for a historic election victory. We look forward to working with the Mayor-elect to continue our work making Chicago the best city in the world to visit and hold your meeting.
While we are an apolitical organization, we believe in the power of tourism to enrich our entire community, and part of our role is to serve as an advocate for the visitor and our partners. Over the coming weeks and months we will be working closely with Mayor-elect Johnson and his transition team to ensure that advancing tourism is a top priority.
As with any transition, we recognize that there is a high-level of uncertainty within the tourism industry at this time. You have our commitment that we will be taking every opportunity to engage with the new Mayor, his administration and all elected officials to advocate for our industry and advance initiatives that will support the visitor economy. We all share the goal of enriching our community by attracting business and leisure travelers, and only by working together we will accomplish this mission.
I also want to thank Mayor Lightfoot, Mayor-elect Johnson, Governor Pritzker and all of you for helping us win the 2024 Democratic National Convention! This selection is a testament to our amazing hospitality community and everyone that makes our city the best in the U.S. for large events. I know many of you worked incredibly hard on this bid and I want to thank you for showing the DNC the best of Chicago.
Finally, following the public safety incidents this past weekend, I wanted to provide assurances that we at Choose Chicago recognize the importance of public safety for the visitor economy and are working with our public safety officials to ensure the safety of all locals and visitors. We have been in contact with the Chicago Police Department and they have indicated that they are taking these incidents seriously and enacting plans to keep all Chicagoans and visitors safe. We will continue to monitor the situation and share information regularly.    
Please do not hesitate to reach out with any questions!
Sincerely,
Lynn Osmond
President and CEO
Choose Chicago
Welcome new partners
10pin Bowling Lounge
AceBounce
Alamo Drafthouse
APS & Associates
Atzimba Catering and Events
Avail
BLACKLION
Cantina on Madison
Charismatic Agency
Courtney White Event Production
Curioso LLC
Flight Club Darts
Grand Lux Café
Honorable Elijah Muhammad House
Jam Productions LLC
LGBT Chamber of Commerce Illinois
Miru
Paulette Wolf Events
Pistachios Contemporary Art Jewelry
Price 4 Limo
Sanchez Daniels & Hoffman LLP
SmartSource
Sonic MESSENGER
TM Creative Consultants
The Oakville Grill & Cellar
The St. Regis Chicago
Partner opportunities
In anticipation of the NASCAR Chicago Street Race on July 1-2, 2023, we are sharing an opportunity for restaurants and bars to partner with NASCAR through their Viewing Partner Program. As a partner, by airing NASCAR racing at your restaurant or bar on race weekends, you'll receive a listing on NASCARchicago.com, a NASCAR Viewing Location window decal, giveaways for your customers, and more. The program is free to join – for more information, contact Alex Bialek.
Additionally, we are looking for partners to support a Familiarization Trip (FAM) in September. The FAM will welcome key tour decision makers from the United Kingdom and will be hosted in partnership with United Airlines. We are looking for a host hotel partner for four days and three nights (we are open to dates that work in September) as well as restaurant hosts for breakfast, lunch, and dinner. For more information, contact Naomi Hattori at nhattori@choosechicago.com.
Future Leader Award winners
Choose Chicago is pleased to announce our 2023 Future Leader Award winners! Each year, two outstanding student partners are awarded a $5,000 scholarship in recognition of their commitment and passion for the hospitality and tourism industry. Recipients are selected based on academic record, professional and internship experience, relevant volunteer experience, educational and/or professional recommendations, and an essay that includes a statement of career and educational aspirations and goals. 
The Awards are presented by the Choose Chicago Foundation and can be used for academic expenses like tuition, fees, room and board.
This year, Future Leader Award scholarships have been presented to the following recipients:
Andrea Salazar, Senior Tourism and Hospitality Major at Kendall College

Molly McNulty, Sophomore Tourism and Hospitality Major at DePaul University
Visit our website for more information about the Student Partnership Program and Future Leader Award.
Update from the Sales and Services team
2023 Sales Goal
During the first three months of 2023, the Choose Chicago Sales Team has embarked on an ambitious redeployment effort to align our strategy with the markets that will provide the best rate of return. We are actively in these markets working hard to attract the best shows for Chicago and reach our 2023 sales goal of 1.98 million room nights, an increase of 17% from last year.
Staffing Updates
Choose Chicago is excited to welcome Tiffany Elum to the team as the new D.C. Director of Sales. Tiffany joins Choose Chicago directly from Destination D.C., where she served as National Account Director as well as Diversity, Equity and Inclusion Lead. She also has experience working in various roles for Marriott International sales and she is a valuable addition to our team working to bring new business from the D.C. market.
We are also excited to announce the promotion of Tawny Ruane to Sales Manager. Tawny has been a valued team member since 2021 as a Sales Coordinator and had her responsibilities expand last summer to a Sales Support Specialist. Prior to joining Choose Chicago, Tawny gained events and hotel experience with The Abbey Resort & Spa in Lake Geneva, WI and with Ateema Media & Marketing. In her new role, Tawny will be responsible for attracting groups from 10-299 peak room nights in the East Coast market.
Highlights from recent shows
The Inspired Home Show, March 6-9

: The annual show returned for its first four-day event since the pandemic, welcoming nearly 30,000 home and houseware professionals from 125 countries.

ProMat 2023, March 20-23:

Returning for the first time since the pandemic, ProMat 2023 welcomed over 50,000 registered attendees, making it the highest attended ProMat ever!

Chicago Comic & Entertainment Expo (C2E2), March 31-April 2:

C2E2 wrapped up a successful show earlier this month. They sold out their 3-day and Saturday passes and welcomed about 75,000 attendees.
Upcoming major events
The following major events are scheduled to take place through the end of May 2023:
HIMSS23 Global Health Conference & Exhibition
4/18 – 4/21, Estimated Attendees: 40,000
American Association of Orthodontists (AAO) 2023 Annual Session
4/22 – 4/25, Estimated Attendees: 20,000
American Urological Association (AUA) Annual Meeting
4/29 – 5/1, Estimated Attendees: 17,000
Digestive Disease Week
5/7 – 5/9, Estimated Attendees: 15,000
2023 National Restaurant Association Show
5/20 – 5/23, Estimated Attendees: 62,500
NCA's 2023 Sweets and Snacks Expo
5/23 – 5/25, Estimated Attendees: 18,000
2024 Democratic National Convention
Choose Chicago is thrilled to share that Chicago has been selected to host the 2024 Democratic National Convention! From our hotels to our event venues to our union partners to so many other stakeholders, the Chicago hospitality community came together in an unprecedented way to showcase the best of Chicago throughout the process, and this win is a testament to strength of our hospitality community.
There is a lot of work ahead of us to make this event a success and we look forward to working closely with all of you to deliver the best DNC ever!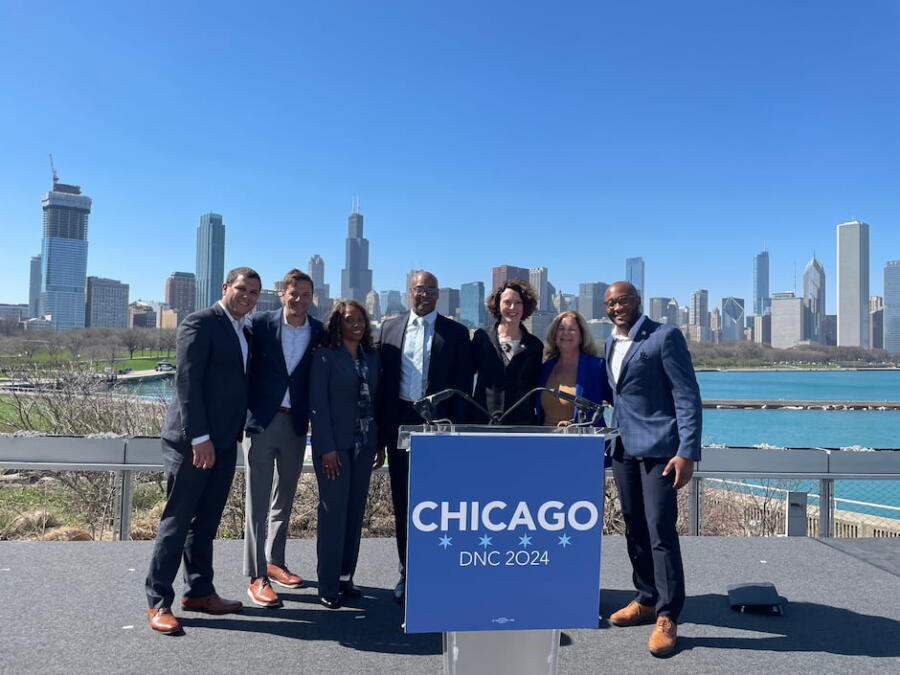 D.C. Media and Meeting Planner Reception
On April 6, 2023, the Choose Chicago Media Relations and Convention Sales teams along with Board Chair Glenn Eden hosted a media and client event in Washington, D.C. 20 key media and meeting planners joined a reception at the Kennedy Center before enjoying a Joffrey Ballet performance of Anna Karenina – the first Joffrey performance in D.C. in ten years! Special guest Marina Squerciati, best known as Officer Kim Burgess on Chicago P.D., joined the team to celebrate and share her love for Chicago and the city's performing arts and entertainment scene.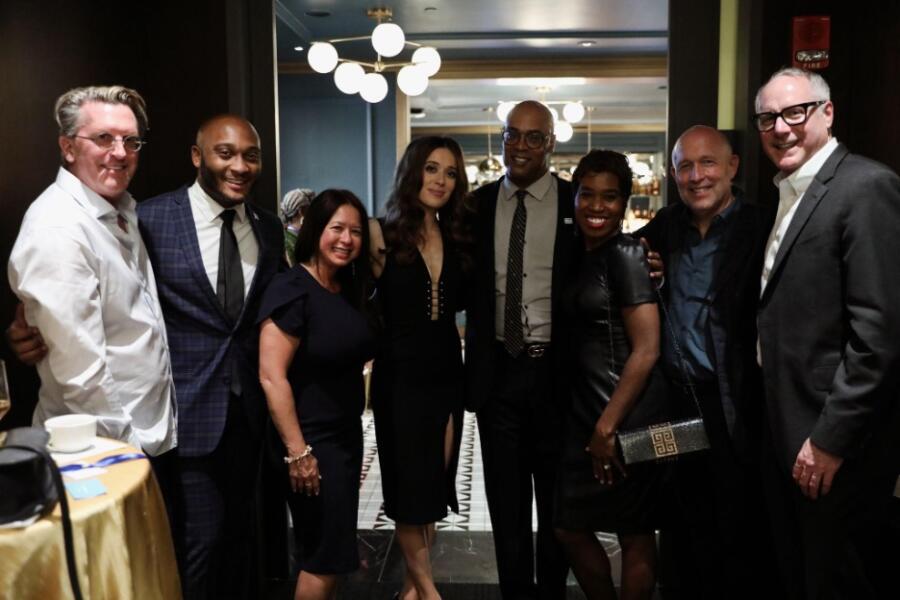 ---