Hotel Hot Dates allow Choose Chicago's hotel partners to enter promotional rates for group meetings offered during specific time periods, simply by logging into the Partner Extranet.
Hotel Hot Dates information will help Choose Chicago inform key audiences traveling to Chicago during these specific time periods about your promotional rates.
To enter Hotel Hot Dates,
1. Log in to the Partner Extranet and click on the PARTNER RECORD tab if you are not defaulted directly to it.

2. Scroll to the bottom of the page and select the WEB tab. A secondary level of tabs will appear. Click on HOT DATES.

3. Click on the ADD NEW HOT DATE button and a new window will open.
4. Complete the following fields to add your hottest deals one at a time:
Rate: Any special rate you are showcasing (mandatory field)
Start Date and End Date: Dates included in deal (mandatory fields)
Room Block Max
Comments: Any comments you wish to include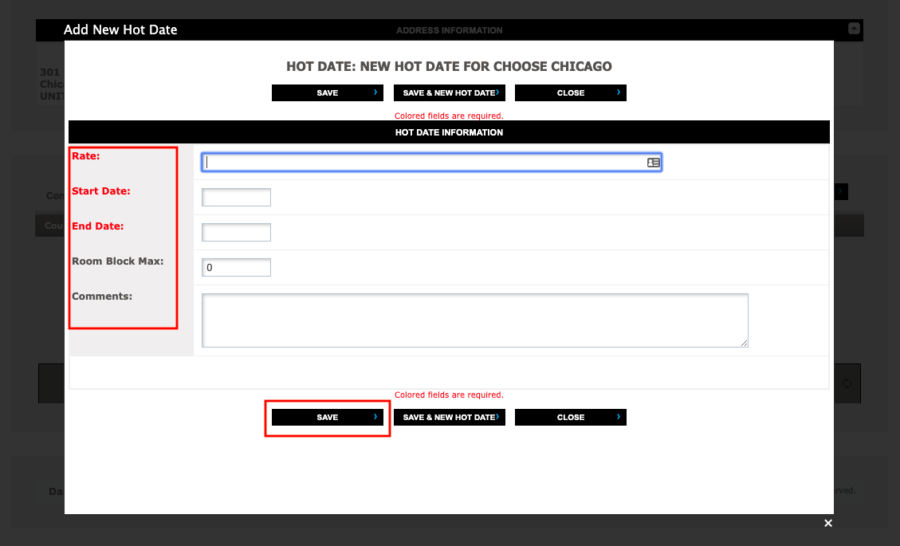 5. Click on SAVE once completed.
NOTE: Hotel Hot Date information is used for internal sales purposes only and will not be listed on the Choose Chicago website.
See our step-by-step instructional video*
*Note: Flash is required to view the video
Contact Maria Alvarez, Manager, Sales Administration, with hotel hot date questions, or call (312) 567-8557.