First Bites Bash will be back in 2022! In the meantime, learn more about participating in Chicago Restaurant Week 2021.
First Bites Bash is the official kick-off event for Chicago Restaurant Week, showcasing sweet and savory tastings from more than 60 Chicago Restaurant Week participants, along with beer, wine and cocktail pairings to a consumer audience of over 2,000 people. Choose Chicago will donate a portion of the event proceeds to the James Beard Foundation Scholarship Fund, which will directly support a Chicago based culinary student.
This year's event will take place Thursday, January 23, 2020 from 6:00 – 9:00 PM at the Field Museum.
Participating restaurants to provide:
Tasting portions to feed 2,000+ guests throughout the full three (3) hours of the event

(MINIMUM of 1,000 portions)

Chef/Owner for photo ops and interviews during the event
Chef's assistant and service personnel for service (max of 4 individuals, including Chef/Owner)
All equipment needed to prep and dish up food item
Chef name, restaurant name and menu item for signage
Optional roll-up signage/tablecloth
*Anticipated event attendance is 2,000+ guests.
Load-in instructions
• First Bites Bash will be held on Thursday, January 23, 2020 at FIELD MUSEUM. Please arrive between 3:00 p.m. and 4:30 p.m. to load in and set up for the event.
• To get to the load-in area, See map below. Load-In will not be allowed at the South Entrance to Field Museum.
The lot is located west of the Museum, right off of McFetridge Drive and approximately 1/2 block east of Lake Shore Drive. If you are driving on Lake Shore Drive, exit at 18th Street, take Museum Campus Drive, and turn left on McFetridge Drive. It is on McFetridge Drive just before the stoplight at the end of the street. There is a white guard booth that gives access to the Lot — press the intercom, give the security guard on duty your name and you will be granted access to the lot. Unload at the Loading Dock (which is immediately to the right after the entrance gate) then you can move your car temporarily into the lot and enter back through the Loading Dock. Mike / Toque & Bottle staff will direct you to your station from there. Once you are finished unloading, please remove your car from the West Lot.
Your main points of contact will for the event will be Shannon Sawyer (shannon@toqueandbottle.com or 630.740.5137) and Ben Smock (ben@toqueandbottle.com or 312.656.6849).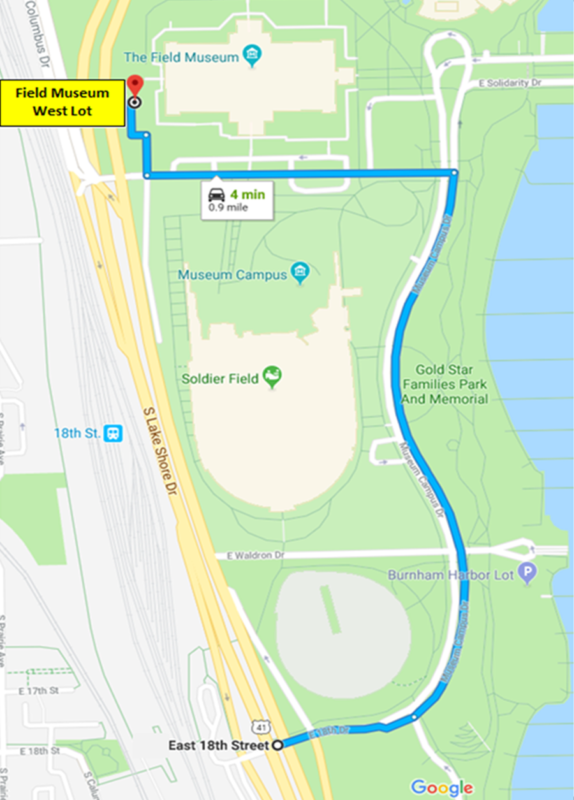 ---
Event Date: Thursday, January 23, 2020
Venue: Field Museum
Chef Load-in Time: 3:00pm – 4:30pm
Load-in Location: Field Museum loading dock, enter through security gate west side
BRING TWO PEOPLE for load in. One to drop and one to drive away!
Set By Time: 5:00pm
Service Time: 6:00pm (doors open) – 9:00pm (event ends)
Parking: Soldier Field North Garage or Field Museum East Lot
Requested Portions: 1400 (minimum of 1000 "bite size" portions required)
Expected Attendance: 2,000
# of participating Restaurants: 75
# of Staff wristbands provided: Four (4) per restaurant total, including the Chef
Staff entrance (if not arriving with food delivery): East Entrance
Table Décor: Your restaurant will get a 6' X 30" front table (eggplant linen) and a 6' X 18" back prep table (black linen). A menu sign will be provided for your station.
Yes, you can bring 1 pop-up banner for your station, as long as it will not block traffic.
Yes, you can bring a branded decorative linen for your station, if you like.
Yes, you should decorate the top of your table. No candles or flames, please.
What to do if you run out of food: Tidy up your station top, return your menu sign and unopened disposables to events team, and wait until 9:00pm to load out.
Carts will not be allowed on the floor from 5:30pm – 9:00pm, and you will not be able to carry equipment through the crowd during the event. Pick up time is 9:30pm.
Load in Plan / Schedule: Upon entering the parking lot, check in with Event Team for instructions. If you have a large van / truck, you will be directed to the West Security Door. All others will be directed to the loading dock. There are 3 lanes on the dock, so please pay attention and stay in your lane! Our team will help unload, then move your vehicle out of the dock immediately. After you drop at your station, return carts to the elevator.
---
First Bites Bash timeline checklist:
11/22/19: Complete your First Bites Bash registration including all contact information including restaurant name, chef name and social handles
12/13/19: Submit the menu item you will be serving at First Bites Bash as well as your menu needs including plates/bowls, utensils, power, etc
1/16/20: Submit all staff names for event. Due to capacity at the venue, you are allowed a MAXIMUM of 4 staff members (this includes your chef). NO EXCEPTIONS. Beverage and specialty sponsors are allowed a maximum of 2 staff members. Wristbands will ONLY be provided to pre-registered staff members.
1/23/20: Prepare a MINIMUM of 1,000 bite-sized portions for the event. We expect approximately 2,000+ attendees and please keep in mind that running out of food will be viewed negatively by attendees who include consumers, sponsors, VIPs and media.