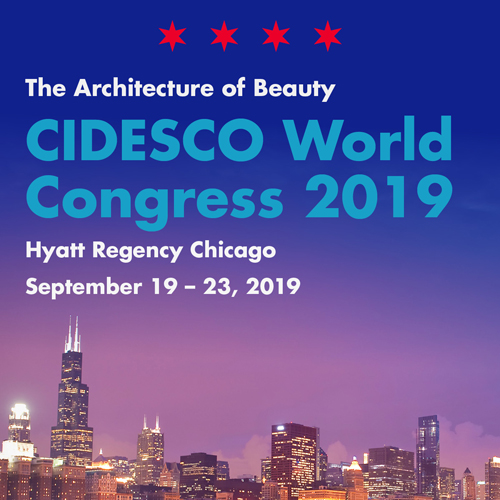 CIDESCO USA
9/19/2019 - 9/23/2019
Hyatt Regency Chicago
CIDESCO World Congress 2019
CIDESCO USA, the United States Section of CIDESCO International, invites you to the CIDESCO 2019 World Congress, September 19 – 23, 2019. Rarely here in the USA, the 2019 World Congress will be held in our hometown Chicago at the world's largest Hyatt — the Hyatt Regency Chicago. You will not want to miss these incredible days of interaction with the world's leading experts in skin care and spa. Learn the latest techniques. Witness the top trends affecting skin care beauty. Meet colleagues from around the world who have dedicated their lives to the CIDESCO "standard" of professional knowledge and excellence. You've always wanted Your CIDESCO — it awaits you right here in our hometown Chicago!
Anyone interested in the professional skin care industry, licensed estheticians, makeup artists, salon/spa owners can attend. Cosmetologists can come, too! Join your international peers as this once in a lifetime event. Come one, come all!
What is CIDESCO?
The Comité International d'Esthétique et de Cosmétologie (CIDESCO) is the world's major international beauty therapy association and the world standard for beauty and spa therapy. CIDESCO is represented by the leading schools and colleges of the world in over 40 countries across 5 continents which offer the internationally acclaimed CIDESCO standards and qualifications. CIDESCO USA is the American section of CIDESCO International, host of the 2019 CIDESCO World Congress.
Our membership is open to the leading schools, colleges, beauty salons and spas of the world and students looking to achieve a superior level of training and the CIDESCO Diploma qualification which is recognized worldwide.
The CIDESCO Diploma is the world's prestigious qualification for Esthetics and Beauty Therapy which has set international standards since 1957. We are proud to provide training and education in a wide range of beauty and spa therapies to produce graduates of the highest caliber.
Special Thanks To Our Media Sponsors: American Spa, Dayspa and MedEsthetics!
Get your tickets to CIDESCO World Congress here: https://www.cidescoworldcongress2019.com/