Let's Talk: Holiday Tastings
---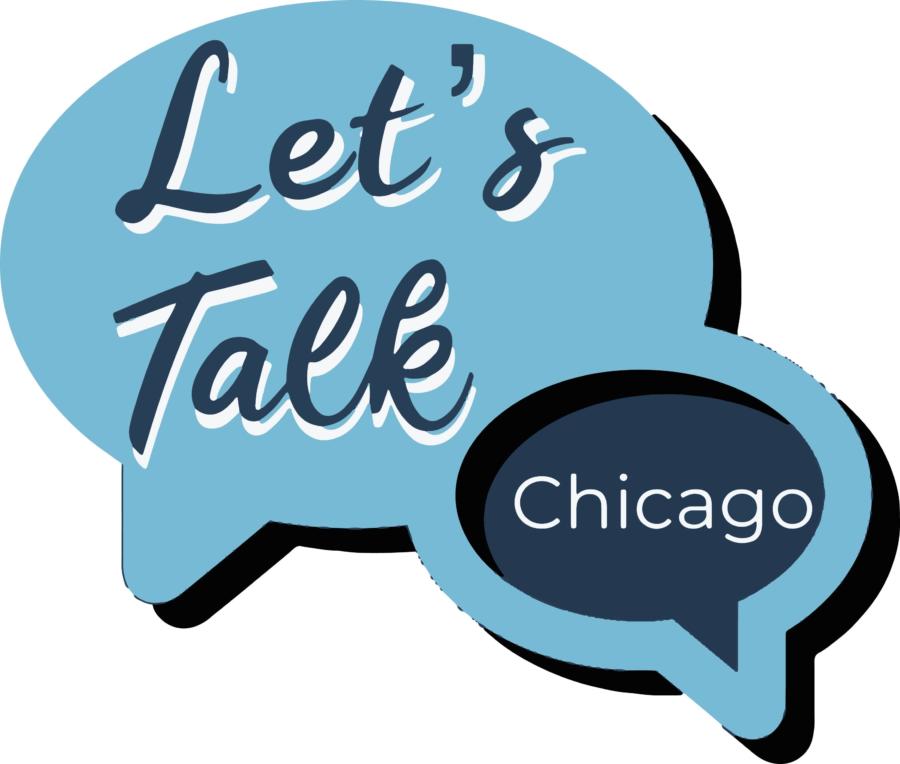 This holiday season, Let's Talk presents a range of culinary experiences designed to help businesses host a virtual staff celebration or provide gifts of appreciation to their team.
Chicago's leading women restaurateurs are offering multi-restaurant tasting menus and a choice of two holiday gift baskets. To round out the experience, you can add on cocktails and/or a virtual conversation with several of the Let's Talk restaurateurs.
Here's how it works:
Corporate Holiday Tastings
The following tasting menus are available (see below for complete menus):

Passport, Contemporary Global Favorites: Appetizers for two ($40); Dinner for two ($75)
Cherished, Home for the Holidays: Dinner for two ($75)
Heartland, Harvest Feast Dinner: Dinner for two ($110); Holly Daze Appetizers for two ($65)

Your corporation chooses what you want from here
Orders must be placed no later than five days before your event/delivery date
A minimum of 30 tastings is required for a corporate order
Orders must be paid for and by the corporation
Tasting menus can be picked up at designated restaurants, or delivered by Tock
Corporate Gift Baskets
Two corporate gift baskets are available (complete list of items below):

Cook at Home*: $125
Sweets and Snacks*: $125
*Order a combo basket with items from both baskets: $250

Your corporation orders your baskets from here
Pick up your basket(s) at designated restaurants, or have the basket(s) delivered by Tock
Corporate gift baskets will take three days to ship or be available for pick up
Make your celebration extra festive by having two of the Let's Talk restaurateurs join the party for a virtual discussion around their restaurants and culinary careers. Please see restaurateur bios below. Cost is $1,000.
If you have questions or need assistance, please email Rohini Dey at rohinideychicago@gmail.com.
Let's Talk Chicago is a group of 24 women restaurateurs founded five months ago by Rohini Dey, Ph.D., (Vermilion restaurateur, James Beard Foundation Trustee). The purpose of Let's Talk is to enable women restaurateurs to support each other and undertake collaborative action to help their businesses survive the COVID-19 pandemic. Let's Talk is now in ten cities with over 200 women restaurateurs who are engaged in similar joint initiatives.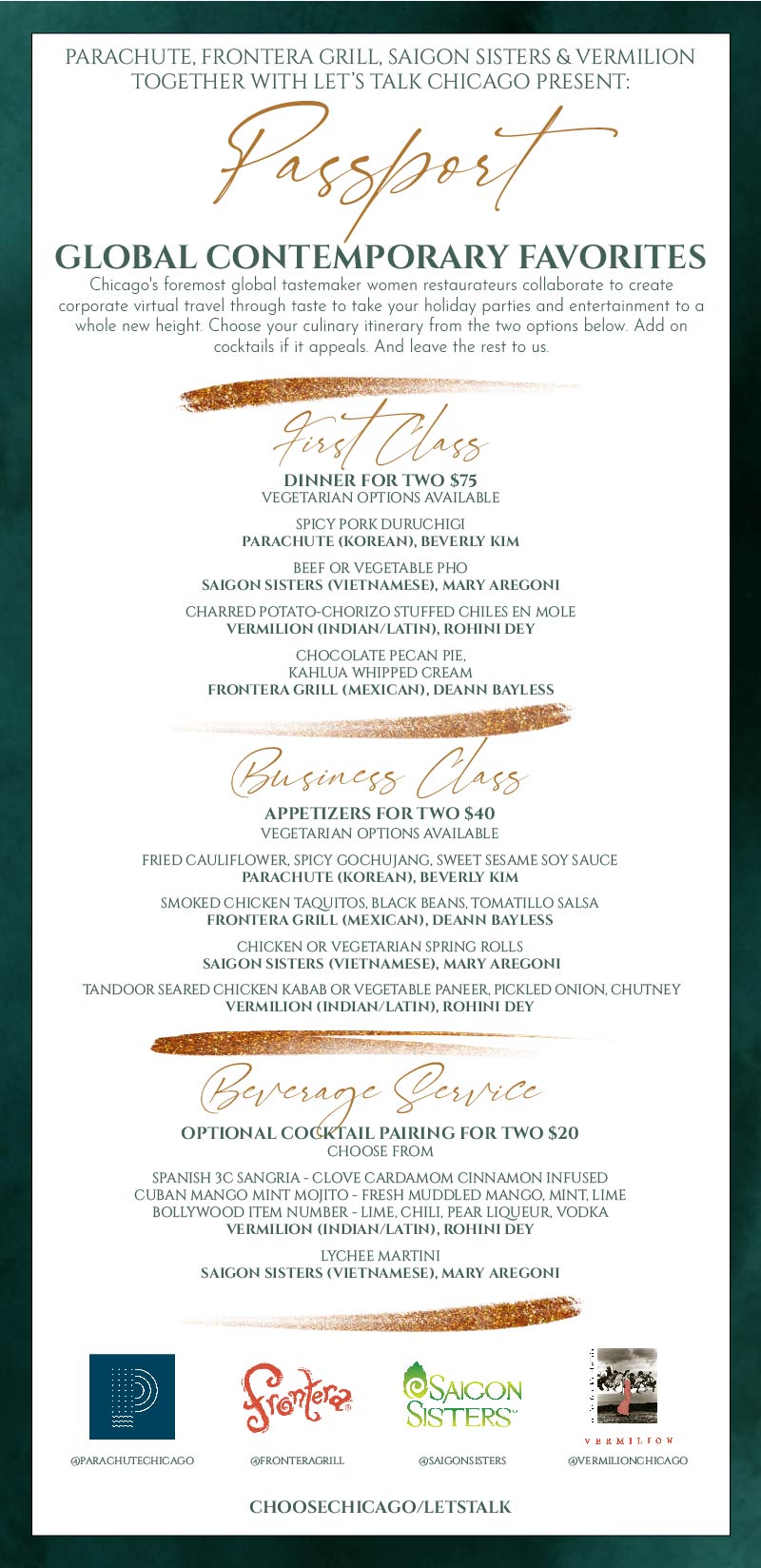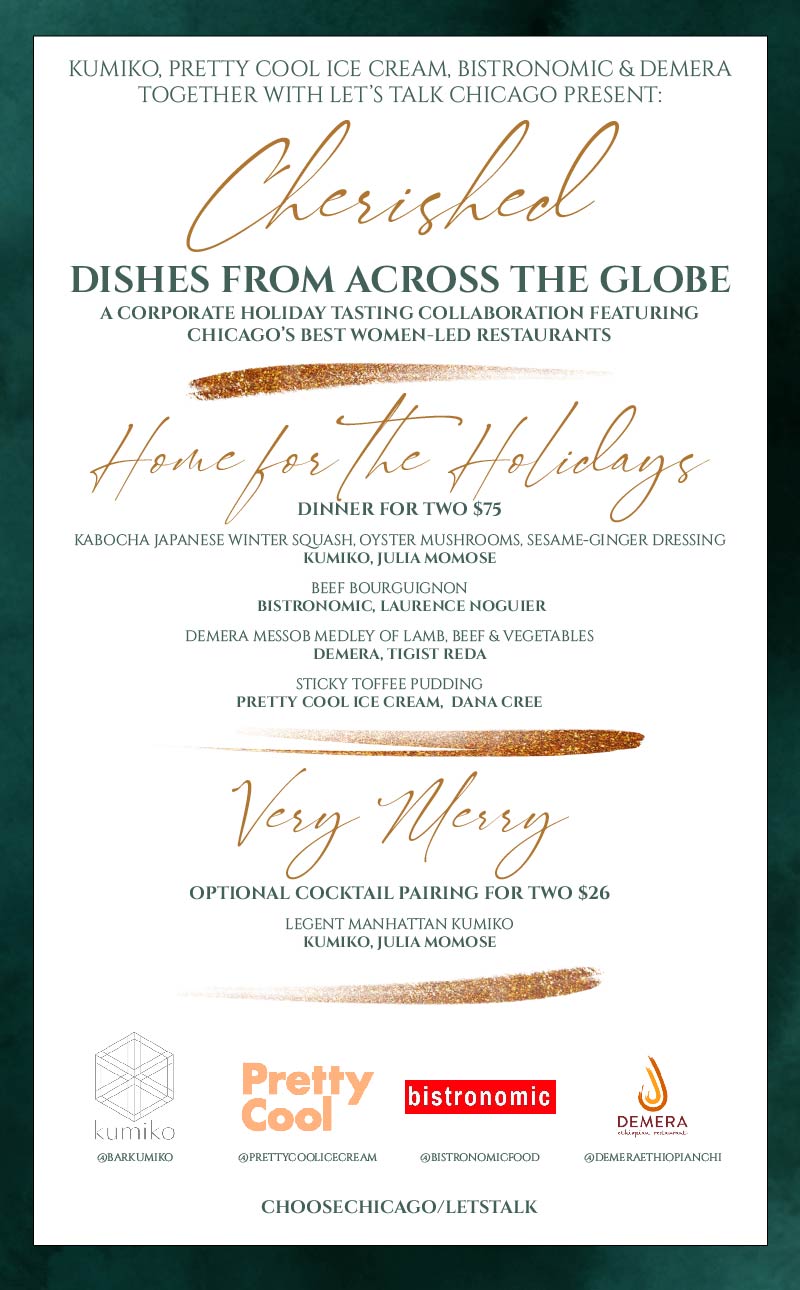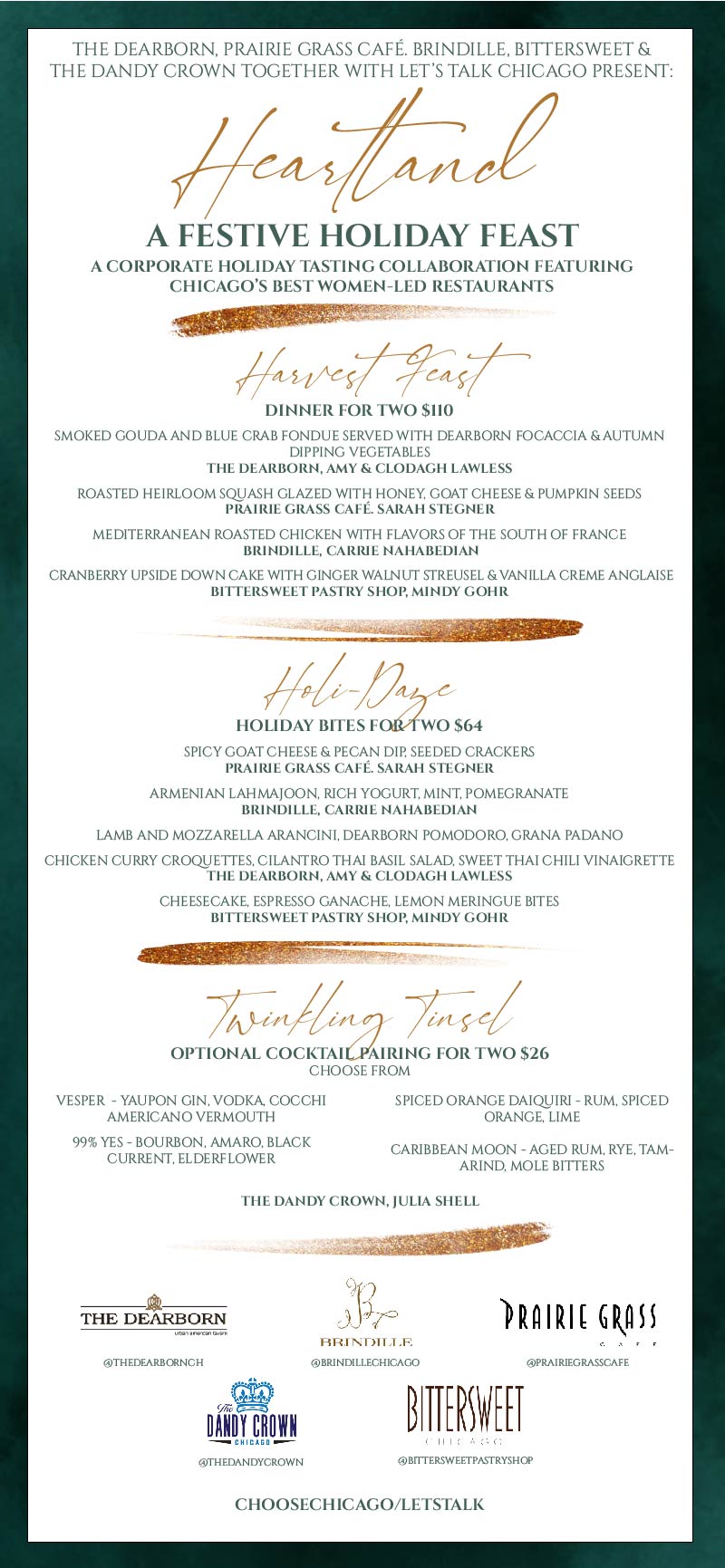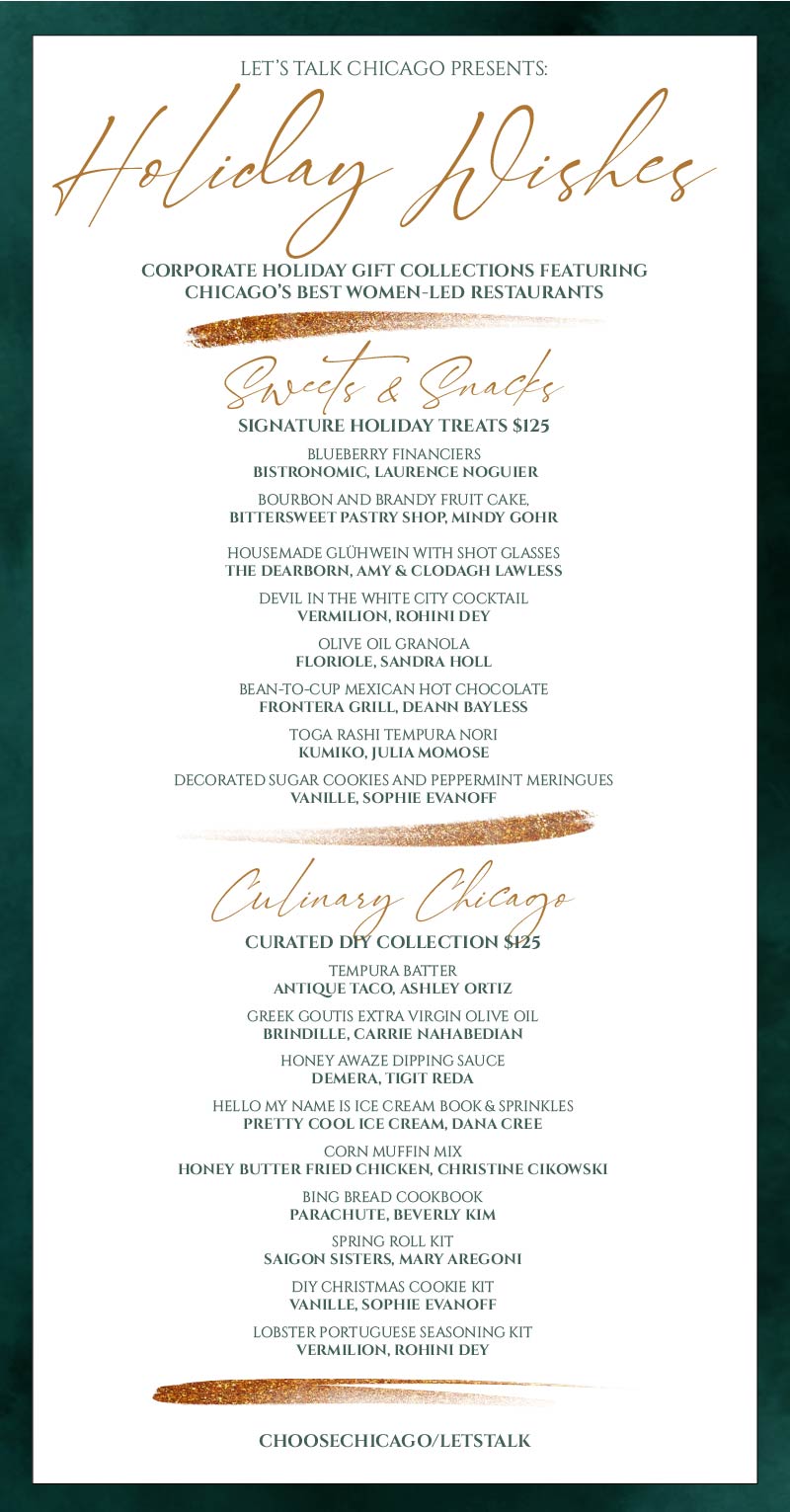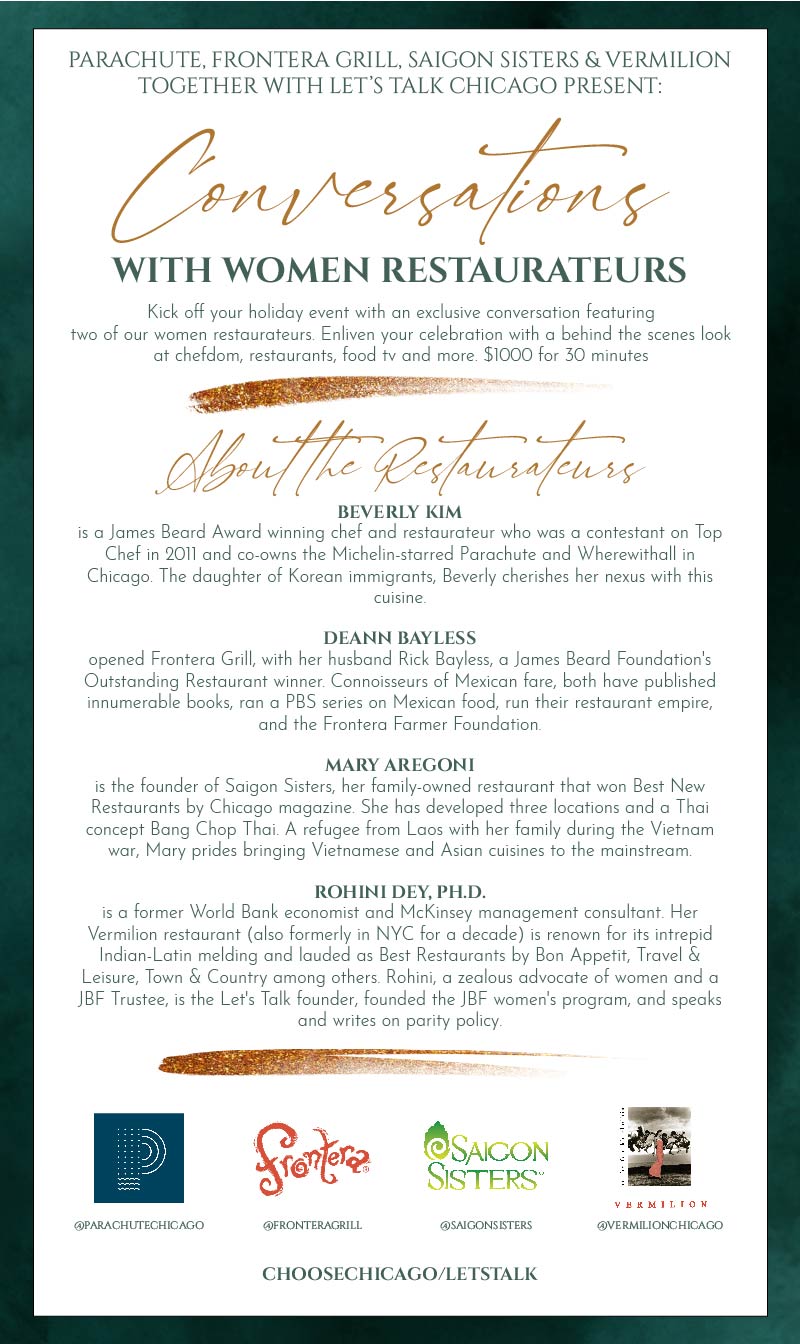 ---