The City of Chicago is postponing the St. Patrick's Day parades and river dyeing as a precautionary measure to prevent further spread of the coronavirus (COVID-19). The City will continue working to reschedule these events to a later date and ensure the health and safety of Chicago's residents and visitors. Please check with event organizers regarding the status of the below events. Check back soon for updates. 
St. Patrick's Day in Chicago is a celebration like no other. While the actual holiday falls on a weekday, the city traditionally celebrates the weekend before — meaning a full weekend of special events and celebrations to get in the Irish spirit. Whether you're looking for an all-day bar crawl or a place to drink green beer on the green river, we've got a round-up of the top bar crawls, parties, and booze cruises all around Chicago.
Also, don't miss our complete guide to St. Patrick's Day in Chicago.

St. Patrick's Day bar crawls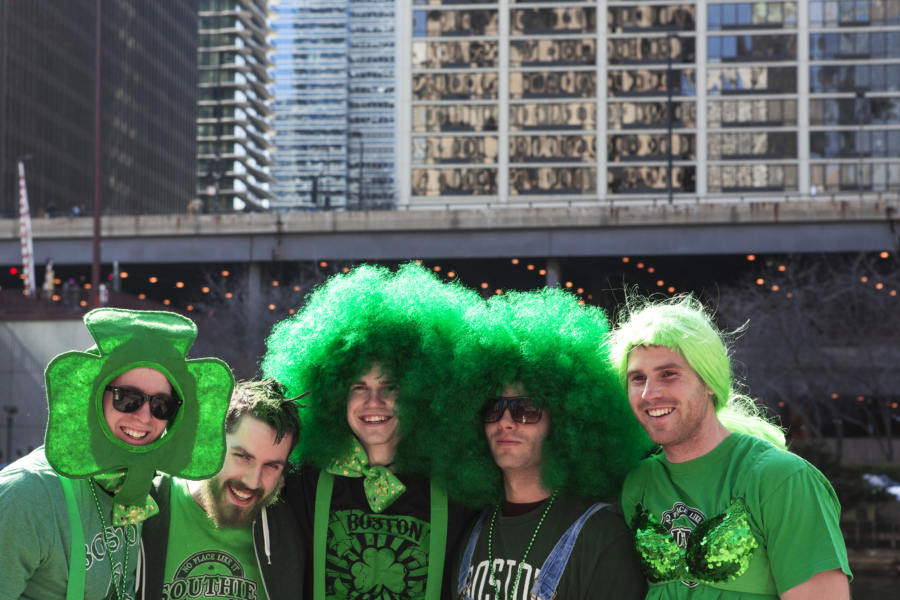 St. Patrick's Day Wicker Park Bar Crawl: Explore some of the city's hippest bars with the biggest crew in town. This crawl covers four to five neighborhood bars and includes entry to all bars, drink specials, contests, green sunglasses, and an after-party.
Saturday, March 14, 4 – 9 p.m.
Tickets: $15 – $25
St. Patrick's Day River North Bar Crawl: Grab your drinking buddies and crawl your way through the River North bar scene. Your ticket includes entrance to bars, a color-changing cup, prizes for top outfits, food and drink specials, and more.
Saturday, March 14, 1 – 9 p.m.
Tickets: $14.99 – $19.99
St. Patrick's Day Logan Square Bar Crawl: Head west for this happening bar crawl, which includes local favorite like Slippery Slope and The Owl. Enjoy drink specials, cool swag, and a huge after party.
Saturday, March 14, 4 – 9 p.m.
Tickets: $15 – $25
St. Patrick's Day River North Late Night Bar Crawl: Not into day drinking — or just want to keep the party going? This evening bar crawl will cover multiple River North hot spots, with drink specials at each.
Saturday, March 14, 8 p.m. – 12 a.m.
Tickets: $14.99 – $39.99
St. Patrick's Day Lincoln Park Bar Crawl: Drink your way around Lincoln Park's historic pubs and taverns on this festive bar crawl. Join hundreds of other revelers are you crawl your way around Lincoln Park, with plenty of bar specials and good times to be had.
Saturday, March 14, 4 – 9 p.m.
Tickets: $15 – $25
St. Patrick's Day Wrigleyville Bar Crawl: Wrigleyville knows how to throw a party, and St. Patrick's Day is no exception. This rowdy neighborhood bar crawl includes admission to the area's most popular bars (like Old Crow, Happy Camper, and Deuce's St. Patrick's Day pop-up) along with a breakfast buffet and drink specials.
Saturday, March 14, 8 a.m. – 2 p.m.
Tickets: $20 – $40
St. Patrick's Day Trolley Crawl: This trolley crawl will take party-goers to three different Chicago bars: Gaslight, Brickhouse, and 80 Proof. Choose from three different routes and don't forget to BYOB for the ride.
Saturday, March 14, 8 a.m. – 5 p.m.
Tickets: $68
St. Patrick's Day parties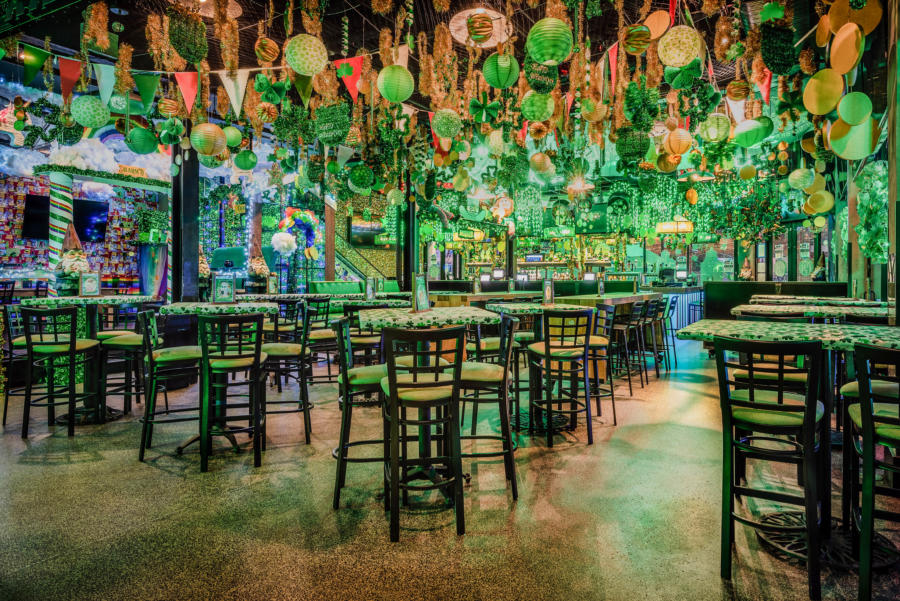 Charm'd pop-up bar: Deuce's continues their seasonal pop-ups with an over-the-top St. Patrick's Day experience. The magical pop-up bar includes multiple rooms of wall-to-wall decor, Insta-worthy drinks, and tons of photo opps. Reserve in advance for free entry (ticket prices may rise).
Through March 17
Tickets: Free
LH Rooftop at LondonHouse: Party-goers can enjoy a front-row seat to the Chicago River dyeing (minus the crowds at ground level) at this dual-level celebration with sweeping views of the river from 22 floors up. Tickets provide guests with a four-hour open bar with green beer, breakfast bites, and St. Patrick's Day accessories.
Saturday, March 14, 8 a.m. – 12 p.m.
Tickets: $100 – $1,000
Fat Pour (McCormick Place): This new South Loop spot will be hosting a "South Side Irish Pride Party". Your general admission ticket includes admission, appetizers, and Irish drinks like Jameson and Irish stouts. Table packages are also available.
Saturday, March 14, 9 a.m. – 1 p.m.
Tickets: $25
The Underground: Keep the celebration going at this late-night lounge. Your ticket includes express entry and a cocktail reception before midnight.
Saturday, March 14, 10 p.m. – 12 a.m.
Tickets: Free, but prices may rise
Apogee Lounge: This rooftop party atop the stylish Dana Hotel is sure to be an unforgettable afternoon. Your ticket includes express entry to the (heated!) rooftop, no door cover, drink specials included.
Saturday, March 14, 10 a.m. – 3 a.m.
Tickets: $10 – $20
Public House: This River North sports bar will be throwing its annual "Tap O' The Morn" party, featuring tons of on-theme menu items. Try their Shamrocked Cake Shake, made with Rumple Minze and mint chocolate chip ice cream, as well as green pancakes and Lucky Charm shots made with Bailey's Irish Cream and Jameson.
Saturday, March 14, 8 – 11:30 a.m.
Tickets: $75 – $650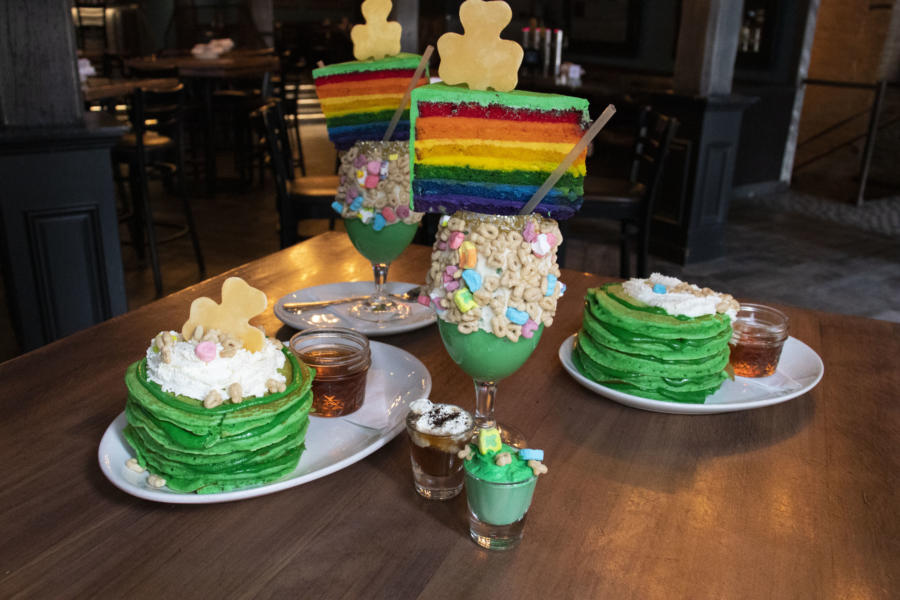 SPiN Chicago: Get your game on (and hope the luck of the Irish is one your side) at this ping pong lounge. Your ticket includes a three-hour drink package, Irish appetizers, a live DJ, party favors, and tons of ping pong. VIP tables are available.
Saturday, March 14, 10 a.m. – 1 p.m.
Tickets: $45 – $55
Hopsmith: Go green at this bi-level Gold Coast bar. Enjoy endless Irish drinks and bites beneath the retractable sunroof. Or snag a VIP table for an elevated experience.
Saturday, March 14, 8 a.m. – 12 p.m.
Tickets: $60 
Godfrey Hotel: Enjoy a breakfast buffet, bottomless beer and mimosas, a photo contest, and more  — all in a stunning rooftop venue. VIP tables are available.
Saturday, March 14, 8 a.m. – 12 p.m.
Tickets: $45 – $60
Theater on the Lake: Enjoy live Irish music, food and drink specials, and skyline views at this lakefront venues third annual St. Patrick's Day party. Tickets can be purchased at the door.
Saturday, March 14, 11 a.m. – 11 p.m.
Tickets: $10

Utopian Tailgate: One of the city's newest rooftop bars will be hosting an epic St. Patrick's Day party. The indoor-outdoor venue will be hosting an open bar with bottomless beer, Jameson drinks, Irish stouts and more. Private tables, booths, and rents are available to reserve.
Saturday, March 14, 8 a.m. – 11:30 a.m.
Tickets: $50 
St. Patrick's Day booze cruises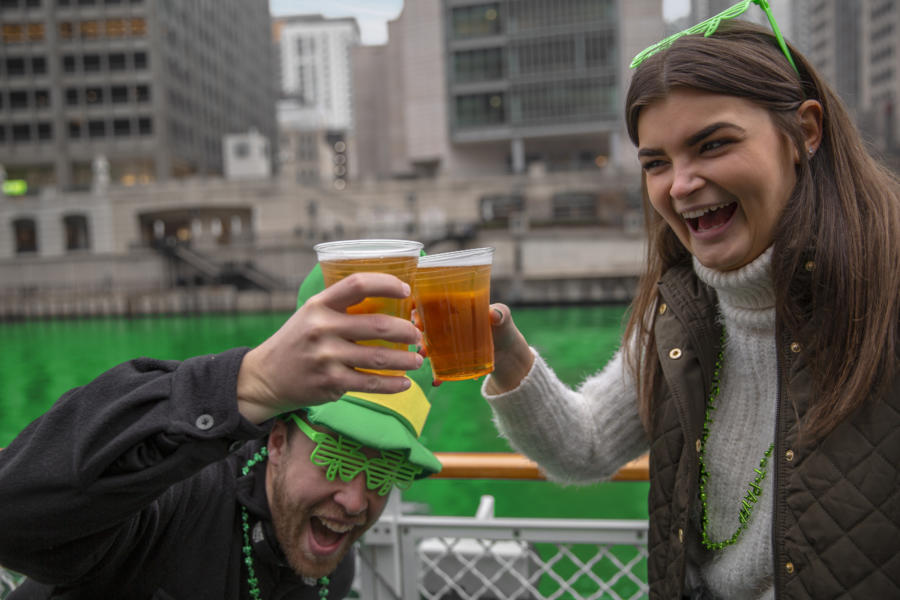 Wendella St. Patrick's Day Cruise: Experience a Chicago tradition up close on Wendella Sightseeing Boats. View the annual dyeing of the Chicago River while listening to festive Irish music on this 21+ cruise, which includes a full-service bar (with green beer, of course). Tickets include three drink tickets.
Saturday, March 14,  9 – 11 a.m.
Tickets: $65
St. Patrick's Day Clover Cruises: Witness the dyeing of the Chicago River for St. Patrick's Day like never before – from the inaugural 21+ Clover Cruise from Chicago's First Lady Cruises. Board their luxurious vessels and experience live bagpipers, specialty Irish drinks and eats, a festive photo booth, and more. The cruise includes two drinks and a corned beer sandwich lunch.
Saturday, March 14, 9 a.m., 9:30 a.m., 12 p.m., and 12:30 p.m.
Tickets: $95
St. Patrick's Day River Cruise: Chicago Line Cruises is offering three St. Patrick's Day cruises along the Chicago River. Hop on the early morning cruise to watch the river get dyed emerald green, or sleep in and choose one of the mid-day options. All cruises include a premium open bar, Irish music, and snacks.
Saturday, March 14, 8:30 a.m., 12 p.m., 12:30 p.m.
Tickets: $60 – $80
St. Pat's Lakefront Booze Cruise: Get out on the lake for incredible views of Chicago's top landmarks — and one of the best parties in town. Enjoy a full buffet, a live DJ, dancing, giveaways, and an after-party with free drinks.
Saturday, March 14, 11:30 a.m. – 1:30 p.m.
Tickets: $20 – $30
Riverfront Cocktail Cruise: Not an early riser? This afternoon cruise is perfect for you. Board the one-of-a-kind Odyssey Chicago River, complete with an all-glass roof, and cruise down the emerald green river with a cocktail in hand.
Saturday, March 14, 4 – 6 p.m.
Tickets: $64.90, drink packages available
St. Patrick's Day Evening Lakefront Booze Cruise: Board this three-story luxury yacht for a scenic St. Patrick's Day cruise on Lake Michigan. This 21+ cruise includes climate controlled interior decks, outdoor top decks, a dance floor with live DJs, full bars, and stunning skyline views.
Tuesday, March 17, 7 – 9 p.m.
Tickets: $20 – $30