When it comes to summertime snacking, there's nothing quite like a good old fashioned picnic. And by "good old fashioned" we mean entirely newfangled and delicious, thanks to a handful of unique picnic-friendly provisions from restaurants throughout Chicago.
Chicken & Farm Shop (113 N. Green St.)
Equal parts tasty and fun to say, "Chicknics" are new picnic packs ready to go courtesy of Chicken & Farm Shop at Soho House. Ideal for park outings, Chicknics are available in two-person, four-person, and family-size (aka six to seven) portions, each one containing rotisserie chicken, corn, coleslaw, cornbread, biscuits, and a bottle of signature smokey sauce or hot sauce. They're all bundled up snugly in convenient jute bags, ready for grab and go.
The Florentine (151 W. Adams St.)
If you prefer your picnics with an Italian accent, head over to The Florentine in the Loop. The Italian mainstay has brought back its popular picnic baskets for the season, offering two different basket options designed to feed two. Italian food and picnics for two? This has "dream date" written all over it. The Ciao Bello Date Basket goes for $65 and includes housemade grissini, assorted cheeses, olives, prosciutto with melon, grilled vegetables, roasted Amish chicken, biscotti, and choice of red or white wine.
Or there's the Italian Summer in the City Basket, which costs $40 and contains chicken panini, spinach salad, housemade chips, panna cotta, and choice of bottled water or Pellegrino sparkling juice. To purchase, call The Florentine at least three hours in advance any time between now and Labor Day.
Paramount Events (1932 W. Lake St.)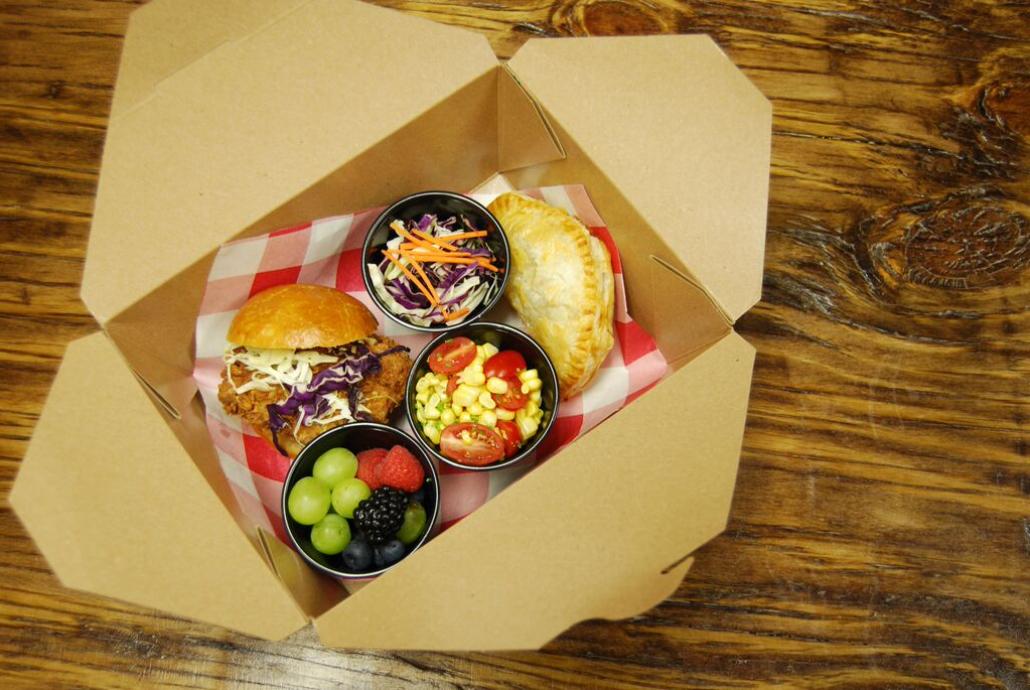 Leave it to a seasoned food event company to perfect the picnic template. Paramount Events is back with their fan-favorite drop-off boxed lunches for summer, each one designed after a different theme. There's the American Picnic with a petite "leftover" fried chicken sandwich, coleslaw, fruit salad, corn-tomato salad, and apple hand pie, the French Picnic with country ham, Gruyere, baby lettuce, radish, cornichons, and garlic aioli on baguette with olive tapenade, crackers, and macaron, the Italian Picnic with caprese salad, olives, mini Italian sandwich, grapes, and chocolate-dipped biscotti, and the Mediterranean Picnic with tomato-cucumber salad, chicken kabobs, couscous, hummus, yogurt-garlic sauce, and spiced cookie.
Fairmont Chicago Millennium Park (200 N. Columbus Dr.)
In case you prefer your picnics with a little pomp and circumstance, the Fairmont Chicago Millennium Park has you covered. Conveniently located alongside its namesake park, the picnic Mecca of the city, the hotel features picnic packages filled with luxury. Ideal for lavish couples, or even grassy proposals, these picnic offerings are more culinary and intensive than most.
Dubbed "Chef in the Park," the idea is to bring the restaurant dining experience into a picnic setting, starting off with a pre-picnic menu consultation with a member of the Fairmont's executive culinary staff. The picnics are personalized to fit the couple's dining desires, and while the chef compiles each basket pre-event in Millennium Park, guests can enjoy drinks, salads, and sushi from aria in the hotel. They're then given the baskets to enjoy on their own. This over-the-top experience costs $600 per two people, which includes parking at the hotel. Contact Corinne Beede at corinne.beede@fairmont.com to make a reservation for the snazziest picnic you'll ever experience.
Pastoral Artisan Cheese, Bread & Wine (Multiple Locations)
Cheeses, charcuterie, wine, bread and more. This can all be had at Pastoral Artisan Cheese, Bread & Wine, AKA your dream store. The adorable market with locations in Lakeview, the Loop, and the Chicago French Market (an Andersonville location is coming this summer as well) ensures customers are never far from their next picnic repast. Either assemble your own haphazard feast, order some sandwiches and sides, or compile a combo of both. They also have customized picnic packages, just to make things easy.
EPIC (112 W. Hubbard St.)
In other picnic news, EPIC is borrowing inspiration from this summery pastime for its new "Picnic on the Patio" promo. While not actually a picnic, it's definitely just as delicious and fun, especially given that it can be enjoyed on the rooftop. The lunchtime package, available on the patio, in the dining room, and on the roof, is a shareable feast designed to feed groups from two to six. Expect picnic-inspired sandwiches, sides, and mocktails.
Photos: Chicken & Farm Shop; Paramount Events; Pastoral Artisan Cheese, Bread & Wine