"Study the science of art. Study the art of science. Develop your senses. Learn how to see. Realize that everything connects to everything else."
Although penned in the 16th century, Leonardo da Vinci's observations were never better reflected than in the design and spirit of Hotel EMC2, Autograph Collection. When it opened its doors on May 24, 2017, the hotel was intent on telling its own unique story, one that hinges on the interrelation between art and science, and the immersive qualities of the multi-sensory hotel experience.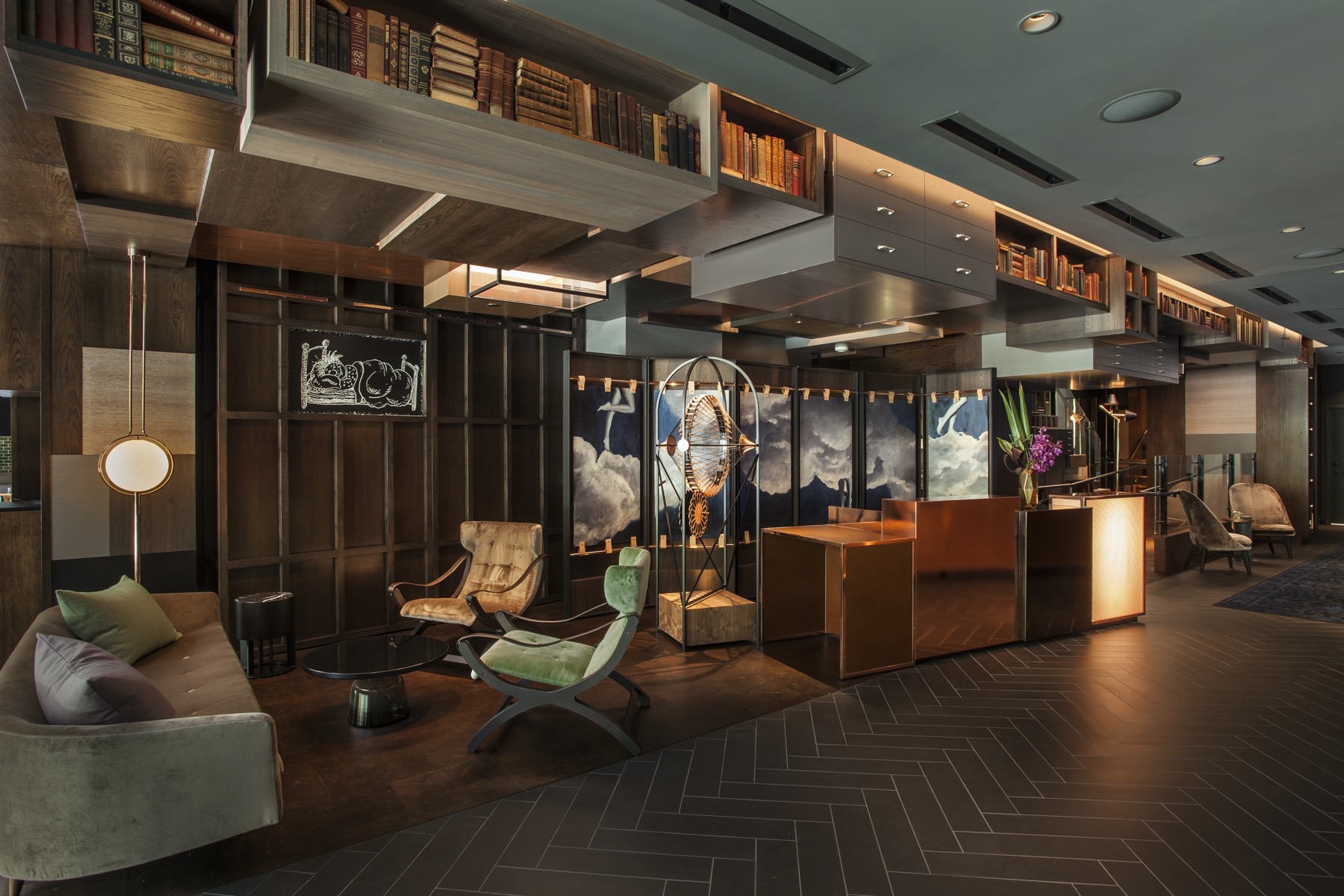 In every facet of this extremely unique hotel — the first of its kind in the United States — the "art meets science" concept is communicated, illustrated and even amplified. As soon as you enter the hotel lobby (pictured above), your attention falls upon a custom-designed Zoetrope. Images of a graceful dancer flash before you, her arms straightening and falling as she spins. It's the perfect metaphor for art's love affair with science, and vice versa.
"The images are an art piece in and of themselves," explains EMC2's Kevin Jagow. "But dancing also relates to science in terms of angular momentum – the closer your arms are to your body, the faster you'll spin."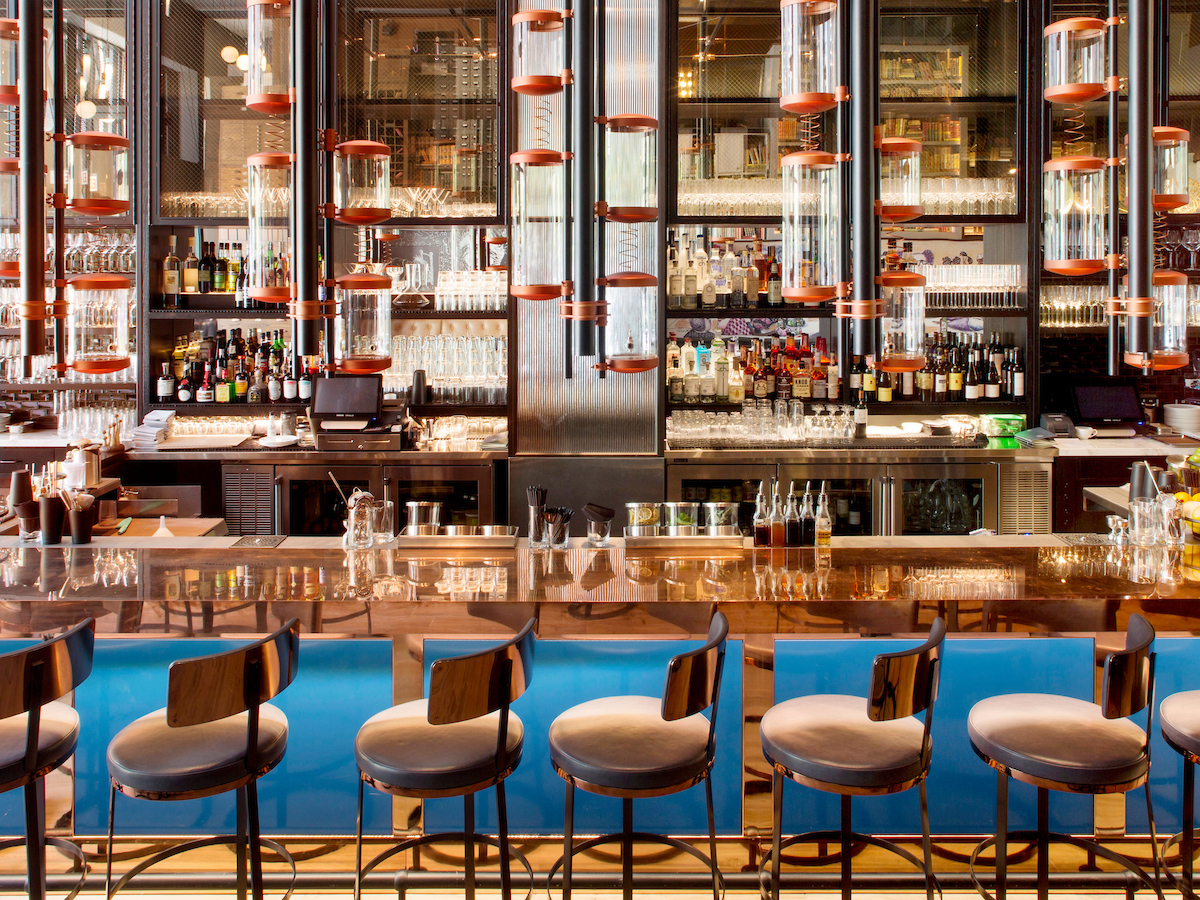 Just around the corner lies The Albert, a nod to Albert Einstein's influence on the hotel concept. (The hotel name itself is, of course, a play on E mc2– Einstein's Theory of Relativity.) Above the bar hang five infusaries, each dispensing specialty drinks – a reminder of the chemistry behind mixology, and the artistry of craft cocktailing.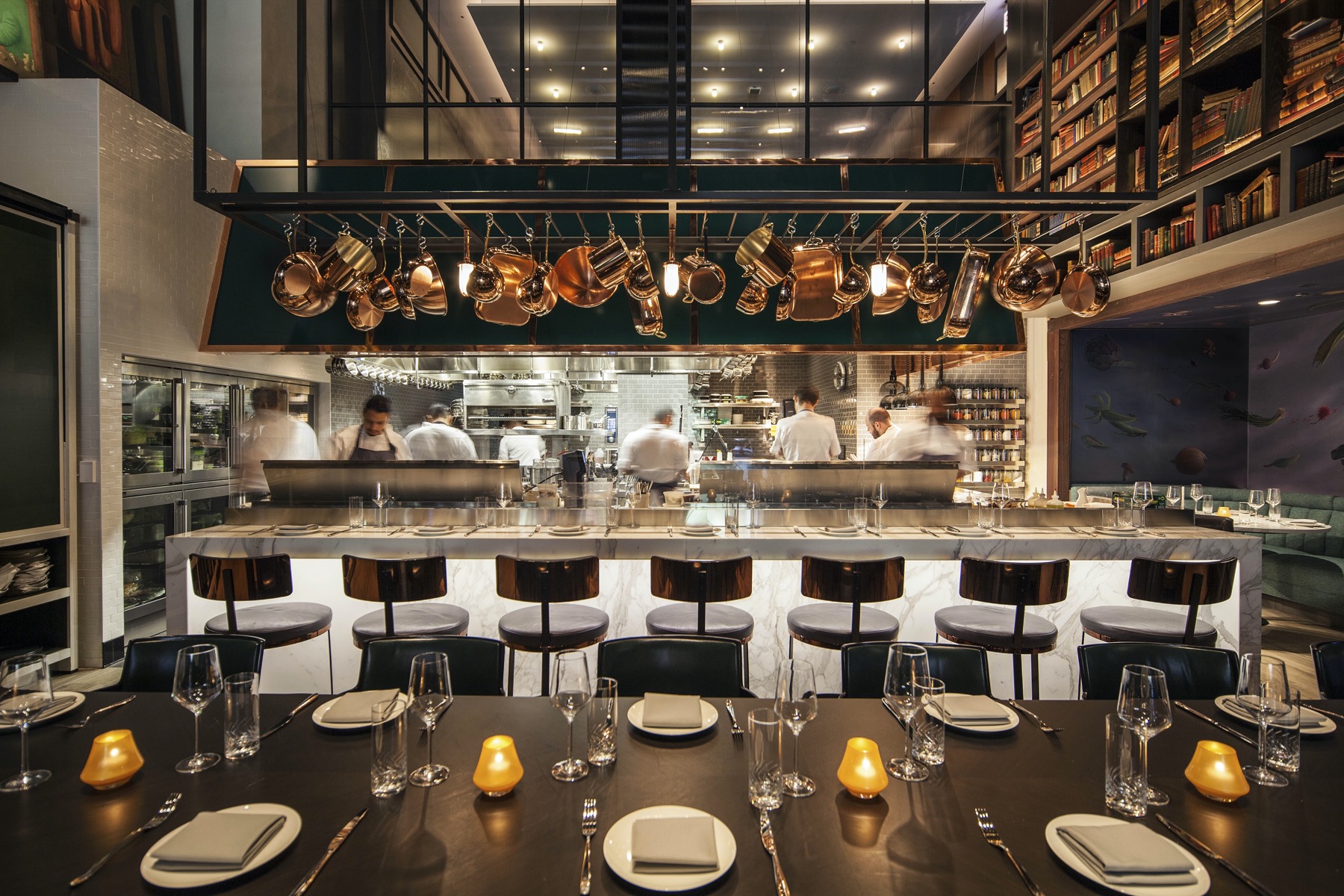 The open kitchen, too, is intended to stress the scientific experimentation that leads to gastronomic invention, and the elevation of mere kitchen into test kitchen. New Executive Chef Larry Feldmeier joined the restaurant just about a month ago, bringing a technique-driven approach to a seasonal menu that celebrates culinary influences from around the globe.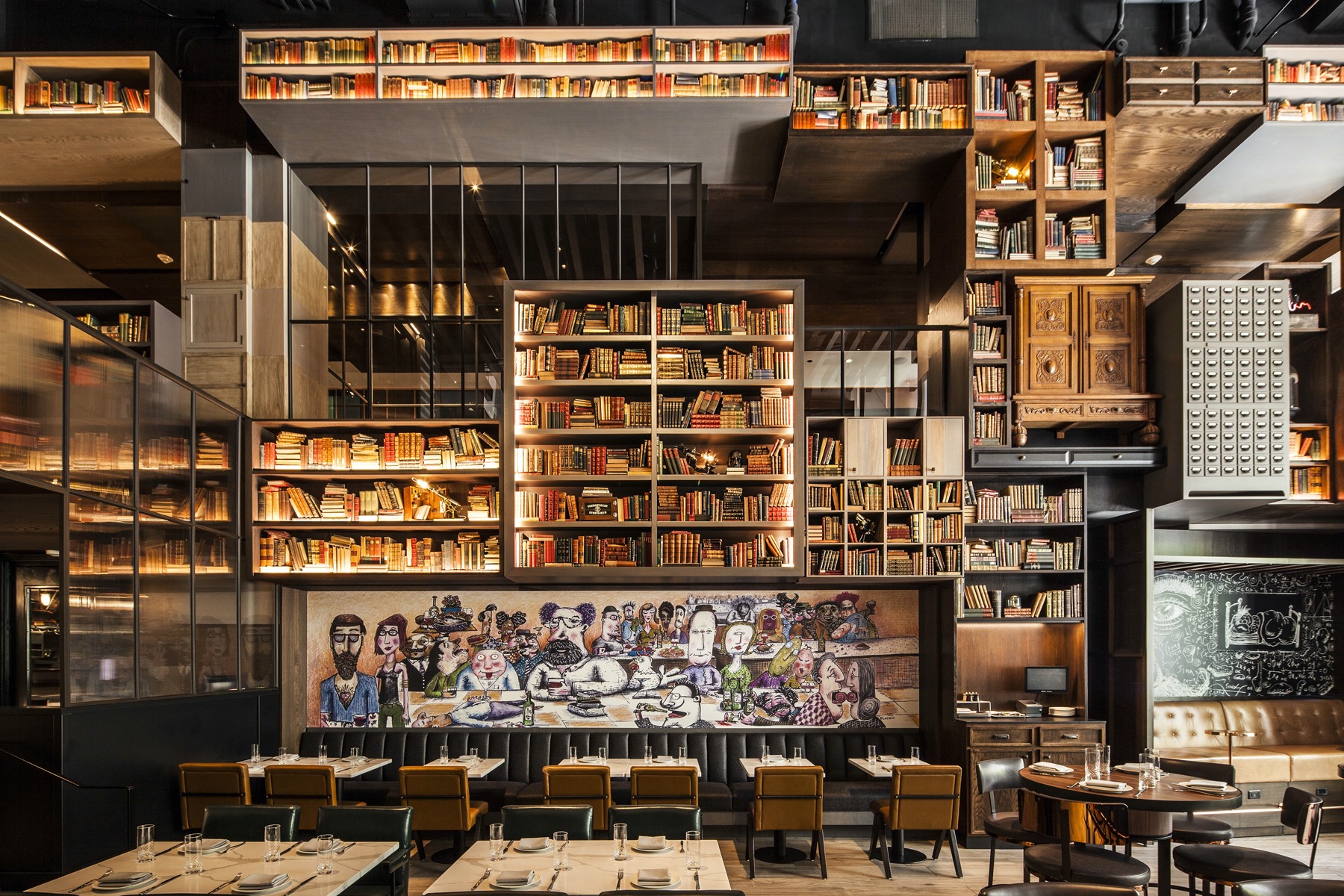 Both The Albert and the hotel as a whole exude a "vintage study" vibe, with file cabinets, index card cases, shelves and draws stacked high upon walls and even along the ceiling's edge. In fact, 12,000 vintage books were hand selected for the hotel, and remain at every guest's disposal (although some of them admittedly will take a bit of a climb to get to).
"The books themselves are time capsules, often filled with family notes and pressed flowers, which remain within their pages," Jagow explains.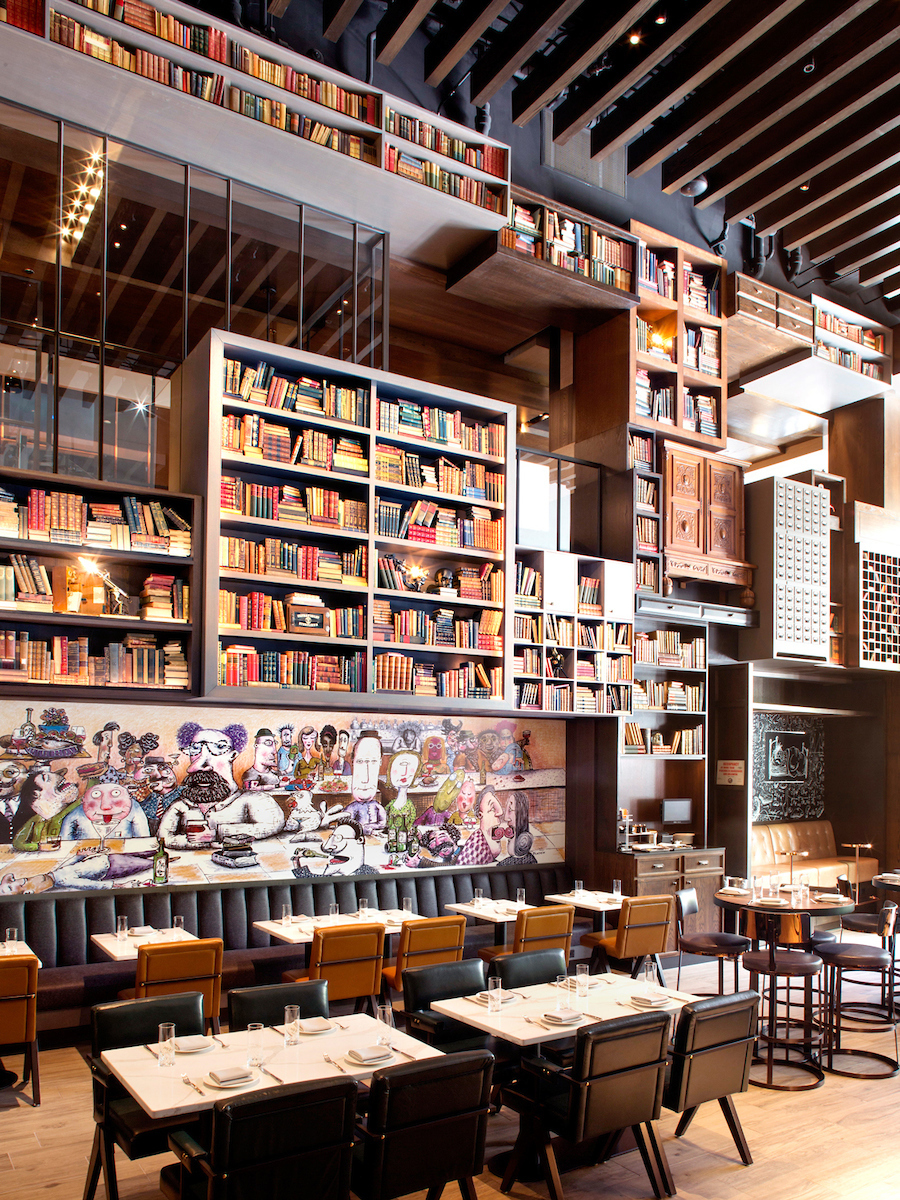 Resident artist Jonathan Plotkin created a number of works for EMC2, but arguably the most eye-catching hangs in The Albert. Featuring a vibrantly-hued collection of diverse individuals — and a cocktail-lovin' chicken — Plotkin's painting very openly speaks to Chicago's eclecticism and culture of inclusion. The painting also offers a "where's Waldo?" moment. Hidden within the scene is a photograph of Albert Einstein himself, the only place his image appears in the hotel. I could tell you where to find him, but where's the fun in that?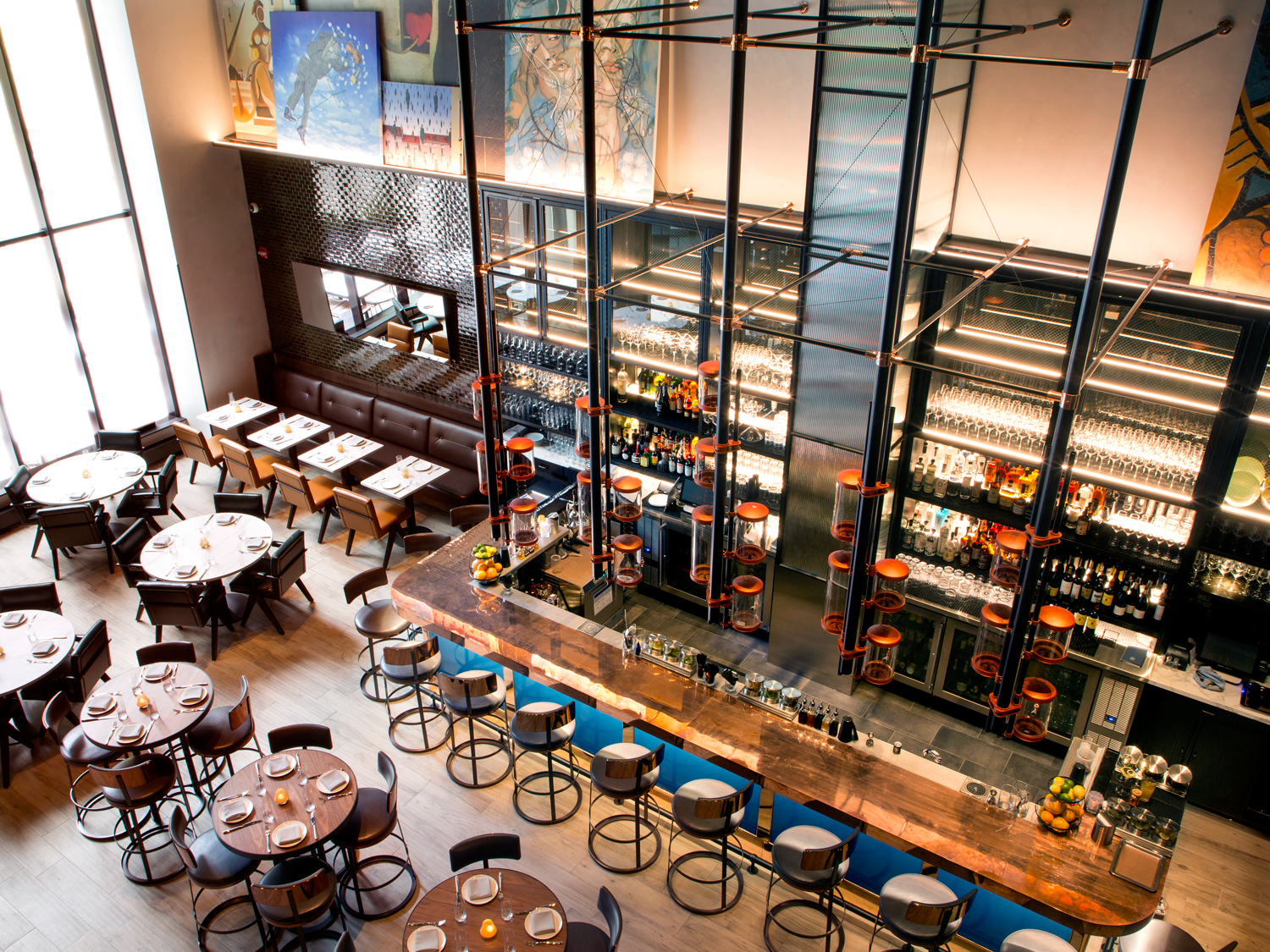 As you've probably guessed, a big part of the EMC2 experience is playfulness – and "the never a dull moment" philosophy imbues every corner of this sumptuous venue. Knowing that there's nothing quite as lackluster as waiting for a hotel elevator, for example, each of the hotel's three elevators is surmounted by a large screen, color coded Green, Red or Blue. As elevators are called, the respective screen lights up with a blue-, green- or red-hued image of storm clouds and lightning (i.e. electrical energy). Again, art and science meet.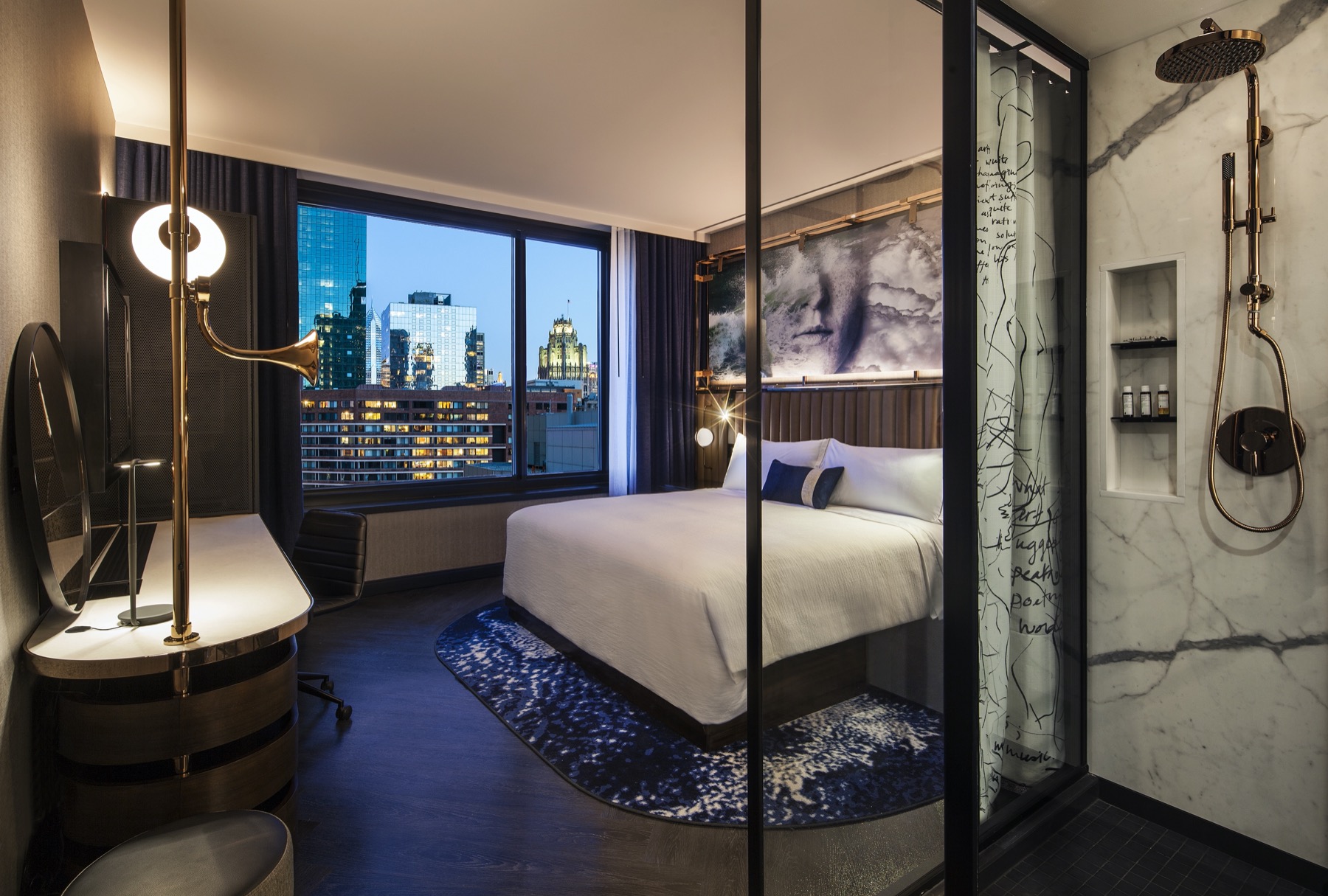 Next stop, your guest room — frankly, a work of design and engineering genius. The glass-walled showers (called wet labs) are inspired by 1920s laboratory designs. The Steampunk-fueled bathrooms come complete with copper pipe accents and a science beaker holding a paper flower. Each room has the feel of a study, with Deco-styled "drawers" that pivot and a gramophone amplifier — probably everyone's favorite feature. In a hi-tech hotel, this is old tech at its best. The shape of the gramophone acts as a natural amplifier for the smartphone nestled in the custom-designed repository above it. Each room is a journey into luxurious surrealism — hence the portrait of Salvador Dali sitting in a tub, which hangs in every bathroom.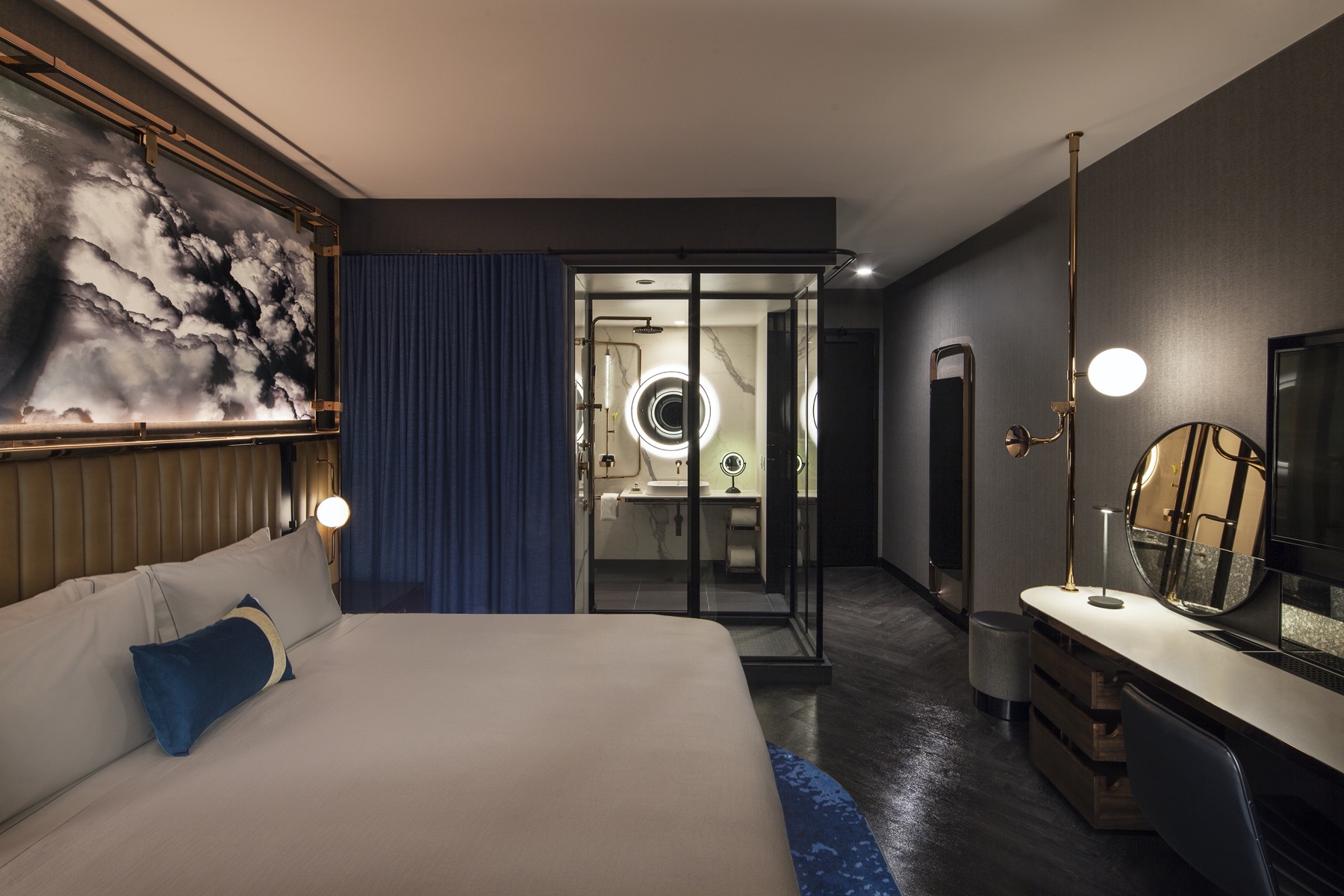 If you think "luxurious surrealism" is too strong a term, maybe the arrival of Cleo and Leo at your door delivering room service will change your mind. "This is the only hotel in the world to use Savioke Relay robots — named Cleo and Leo — who give you a little shimmy before they leave," Jagow explains. Displaying an incredible amount of character for something decidedly devoid of the human element, Cleo and Leo are every bit as charming as the hotel itself.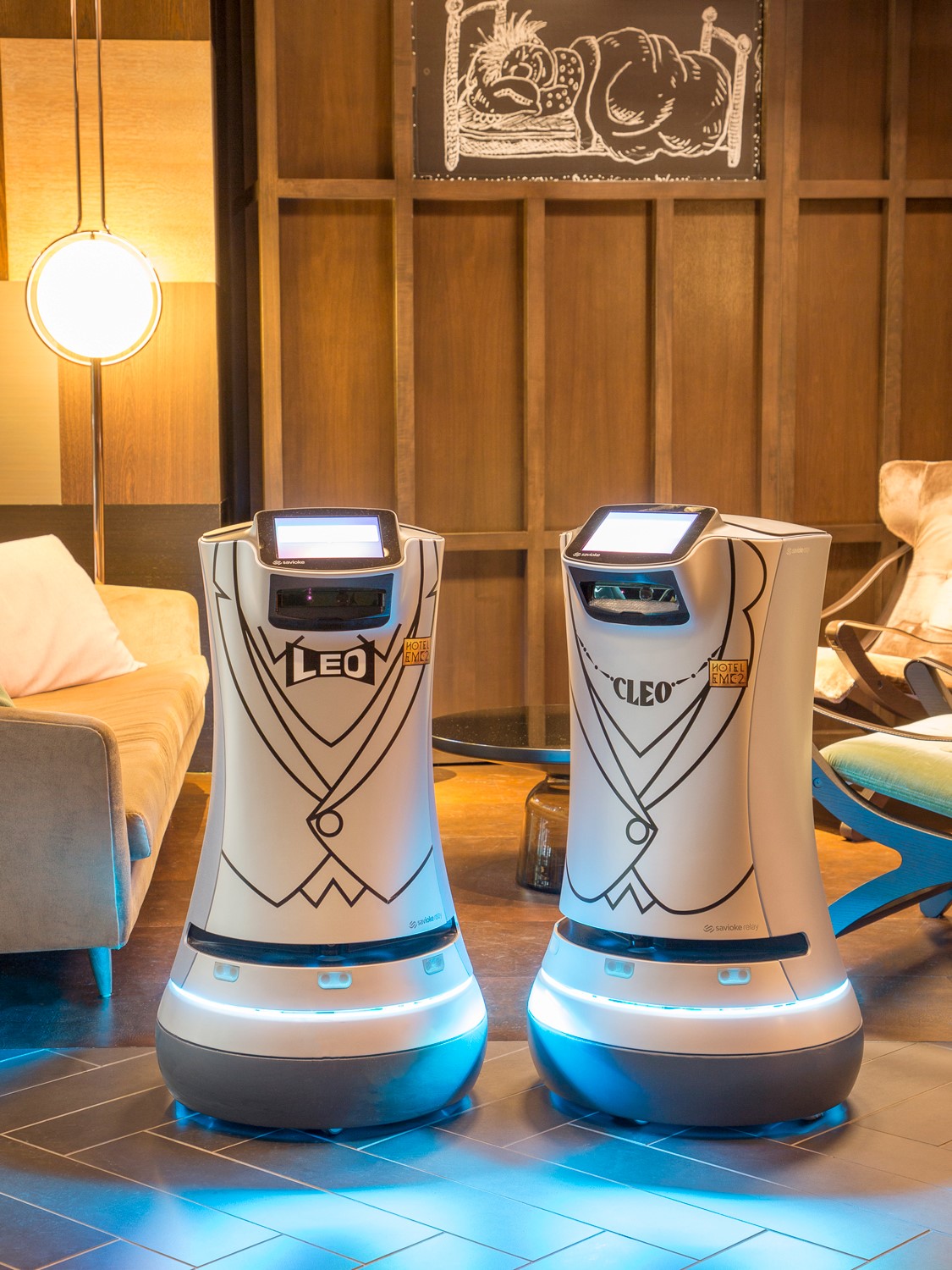 EMC2 takes its storytelling seriously. The only thing more important? You. And they make sure you know it.
Hotel EMC2 228 East Ontario Street, Chicago, IL 60611.
Meetings With Soul
Overlooking The Albert's open kitchen, you might be intrigued about what goes on beyond the towering windows on the lofted level. The answer is, meetings.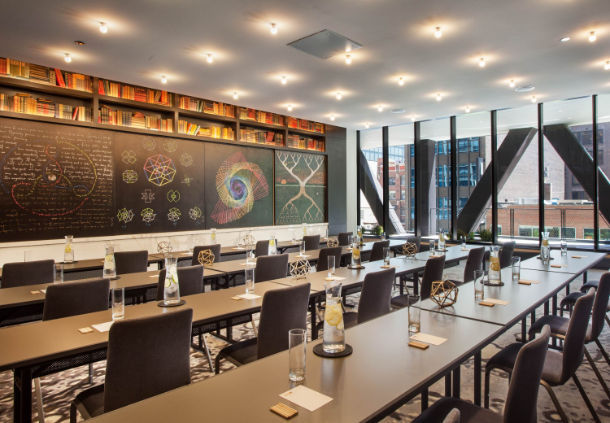 Before I hear a global "Ugh," know that in the EMC2 meetings world, form and function are uncompromising equals.
The hotel offers two meeting spaces/private event rooms, both paying homage to Emmy Noether (1882-1935), one of the most famous mathematicians you've likely never heard of. Einstein quoted her as the most influential mathematician of his era. But a combination of her Jewish heritage and her gender meant that she was not given the credit she deserved.
Noether is responsible for the mathematic formulas behind the Theorem of Symmetry. Artist and mathematician Eugenia Cheng was brought in to create freehand boards for both rooms as a clever way to conceal screens and state-of-the-art AV equipment. Again, the choice of Cheng to create this functional art calls to mind the interrelation between art and science — she is an English mathematician, pianist, scientist-in-residence at the School of the Art Institute of Chicago, and an honorary fellow of pure mathematics at the University of Sheffield.
Both the 812sf Emmy Noether Room, which overlooks The Albert's open kitchen, and the 988sf Symmetry Room, which opens onto a beautifully manicured, covered terrace, turn the ho-hum meeting room concept entirely on its head.
For more on Hotel EMC2's meeting rooms and special event venues, visit HotelEMC2.com.