Choose Chicago's Equity, Diversity, and Inclusion Team and The Choose Chicago Foundation are committed to strategically promoting equity, diversity and inclusion via five pillars of focus — education, professional development, policy, community engagement, and storytelling through marketing and media.
We serve as a liaison between Choose Chicago departments to connect external customers with local diverse vendors and community leaders.
We are committed to increasing recruitment and advancement within the hospitality and tourism industry for students of color.
Equity, Diversity, and Inclusion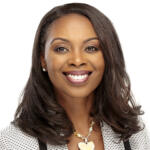 Roz Stuttley , CMP
Director, Equity, Diversity, and Inclusion